22 Space Saving Shoe Storage Ideas
So you need a little extra shoe storage…
1. Ladder Shoe Shelf
Buy a ladder + five boards of wood and you've got a beautiful tiered rack to display all of your shoes.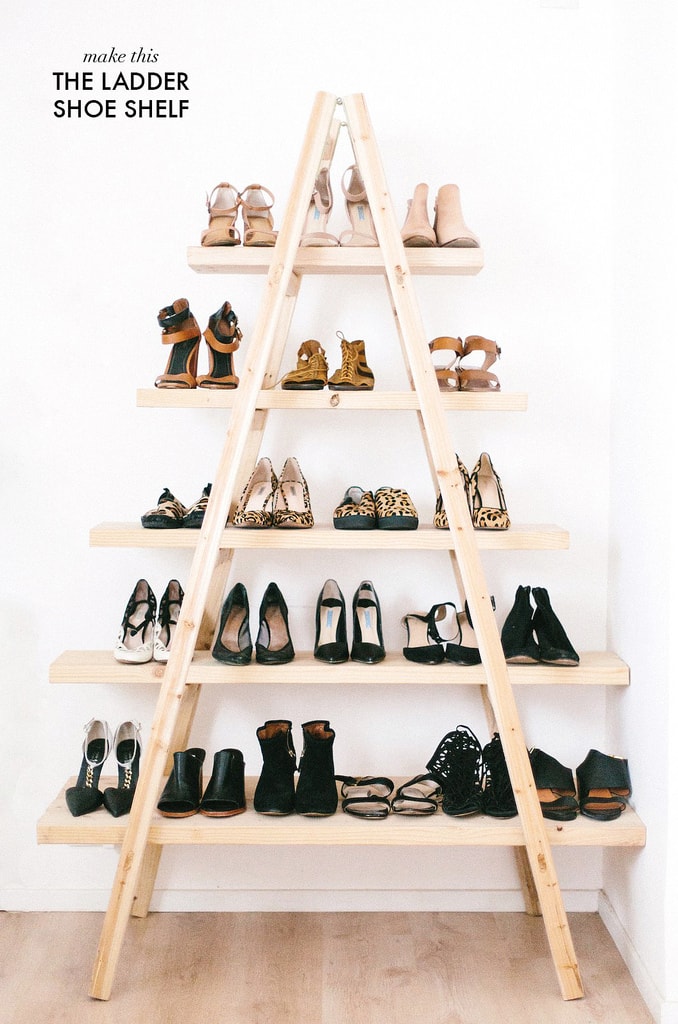 2. PVC Pipe Shoe Rack
This PVC shoe rack is genius: Find pipes that are just the right size for your shoe collection, cut them down to shoe-length, and stack together using pipe glue. You can always add to it as your collection grows.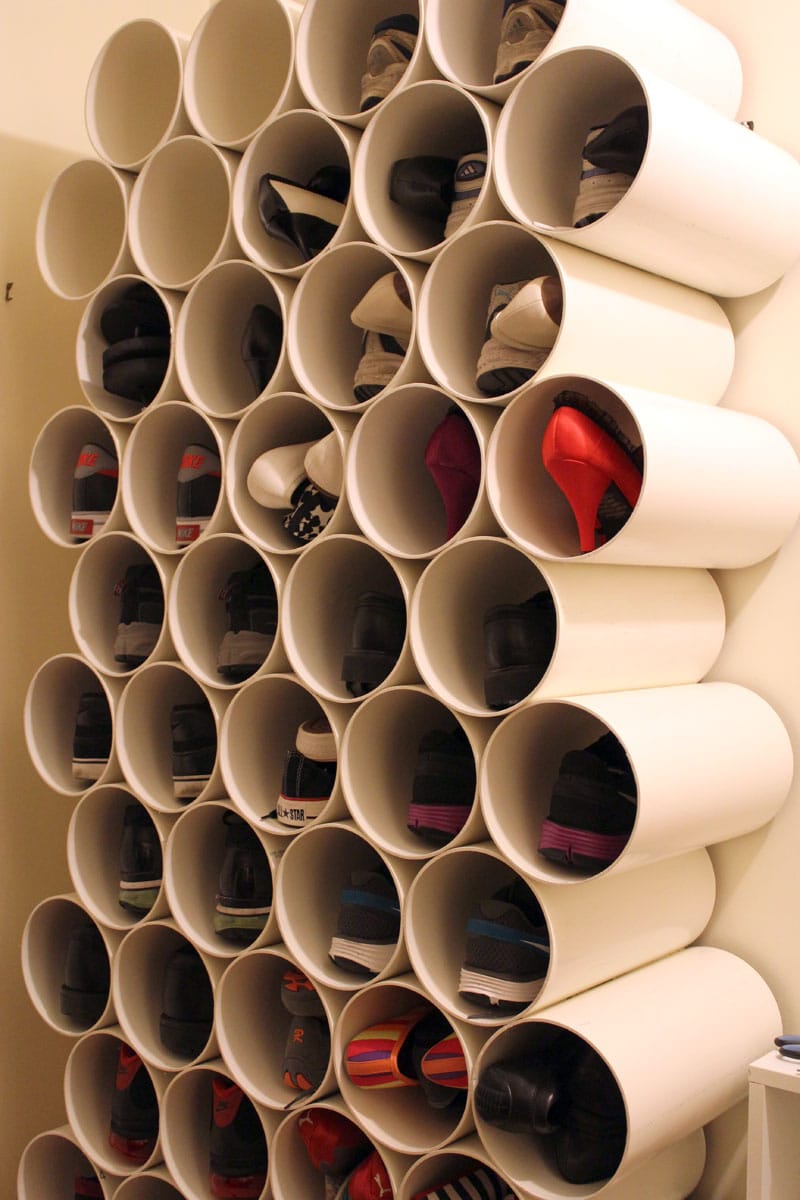 cookielovesmilk
3. Copper Pipe Shoe Rack
Add copper accents as a modern decor piece. Create a copper pipe shoe rack in an empty corner and enjoy.
4. DIY Ladder Shelf Shoe Storage
Ladders don't take up that much space and can serve as a cute and dynamic storage solution.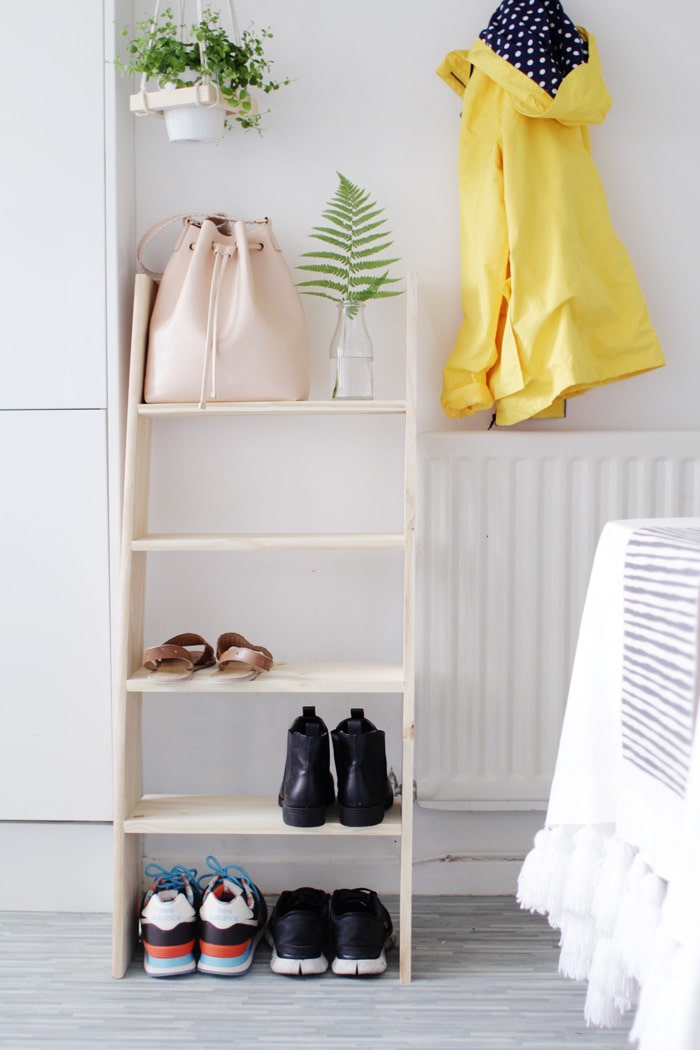 5. Hanging Closet Shoe Storage
These hanging shoe racks are a simple and cheap solution,
6. Wire Basket Shoe Rack
Wire baskets for shoes. Wooden picking crates would work also, stack them lengthwise for runners etc and on their ends for boots.
6. DIY Lazy Susan Shoe Storage Unit
This is a super way to neatly store all your shoes!
7. DIY Cardboard Shoe Rack
DIY this space-saving cardboard shoe rack.
8. DIY Wooden Crate Shoe Rack
A farmhouse style DIY shoe rack made from wooden crates.
9. DIY Tension Rod Shoe Racks
Use tension rods for instant shoe oganization in a small bedroom.
10. DIY Customized Shoe Hangers
Great way to recycle those awful metal dry cleaning hangers.
11. Entry Way Shoe Organizer
12. A Bench & Shoe Storage DIY
A simple bench and basket shoe organization solution.
13. Ikea Magazine DIY Shoe Rack
Turn IKEA magazine holders into a shoe rack.
14. DIY Grid Shoe Storage Display
15. Hallway Shelves
Sometimes the most practical solution is also the simplest. Use a rail and some S hooks to store your shoes
16. Shoe Cabinet
This shoe cabinet folio is perfect for space saving and easy access to your favorite shoes.
17. Clever Shoe Storage Solution
Simple wood staircase with built-in storage.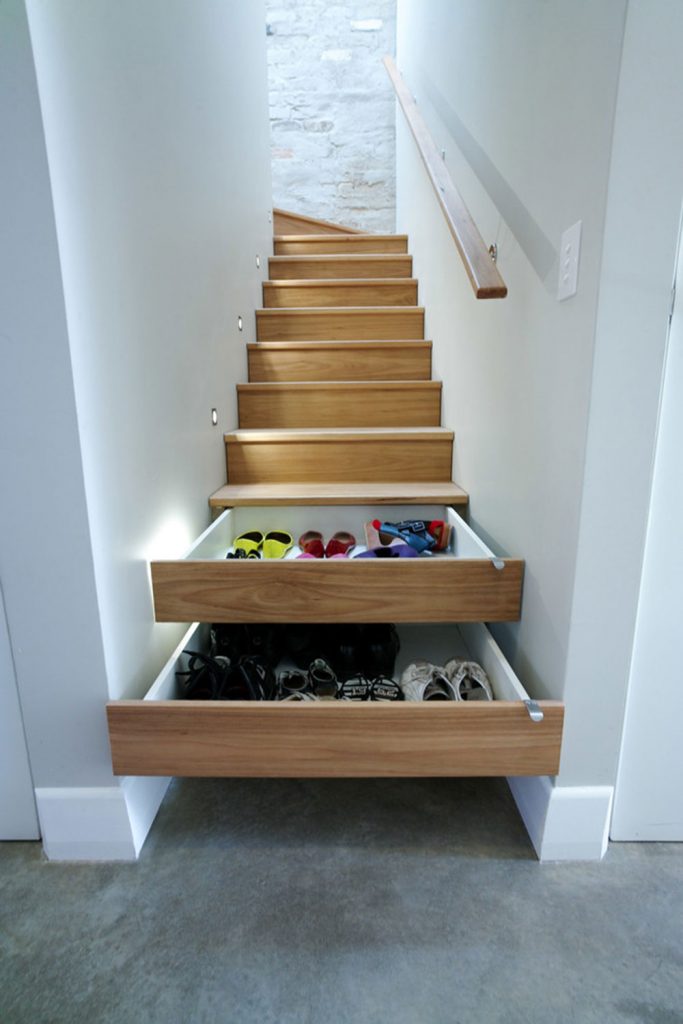 www.impressiveinteriordesign.com​
18. Farmhouse Bench and Shoe Storage
Vintage wooden crates that act as shoe storage under a clean white bench.
19. Vintage Crate Boot Rack
Super simple wood crate shoe rack.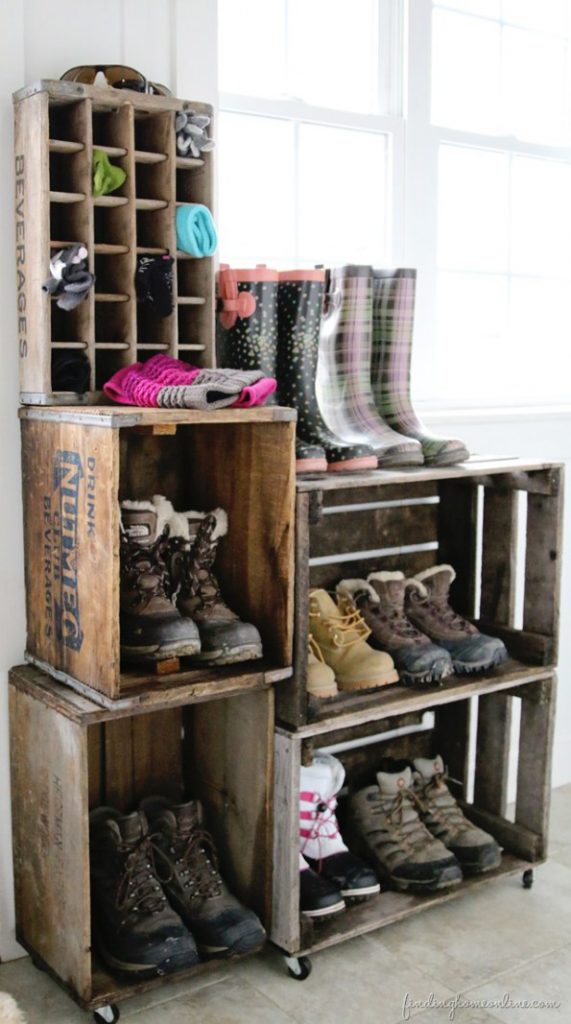 20. Shoe Rack from Rustic Crates
Use old wood crates and make a hanging shoe closet!
21. Wooden Dowel Shoe Storage Hack
Store your boots in a vertical shoe rack.
22. Stackable Wooden Crate Shoe Storage
Budget-friendly solution that is perfect for modern/minimalist interiors. Simply stack a bunch of wooden crates for this cheap & easy shoe storage solution.