50 Shoe DIYs That Will Have Your Sneakers and Sandals Stylishly Made Over
Recreate and rebrand some of your older pairs of shoes in the most simplest and creative of ways. Who knew there were so many ways to give your feet an upcycled appeal? These 50 shoe DIYs will have you sneakers and sandals stylishly made over and ready for a night out on the town!
1. Golden Tipped Ballet Flats
Check out Brit + Co for this fabulous ballet flat DIY idea. If you love a bit of sparkle, you'll love these golden tips!
2. Red & White Saddle Shoes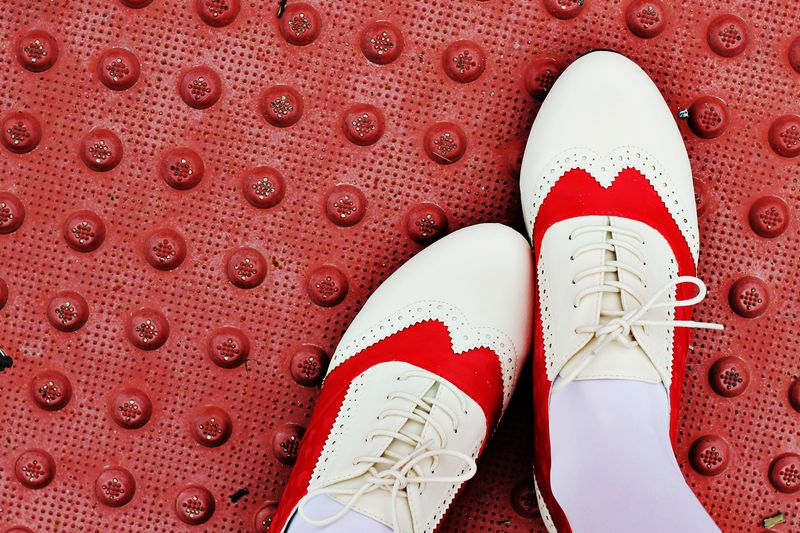 A Beautiful Mess has these beauties featured on this site. Check out the tutorial after the jump!
3. Studded Sandals
Add some studs to your sandals like they did over at Brit + Co. These looks brand new and store bought, don't you think?
4. Fabric Gladiator Sandals
Miss Kris took some fabric and created some snazzy gladiator sandals out of it. Jump over and check out the tutorial.
5. Pom Pom Shoe Clip
Create some adorable shoe clips with the help from Lovely Indeed! You can attach and detach these for whenever you need an extra pick-me-up.
Find More Ideas
Check out these beautiful projects and get a lot more ideas for your DIY projectGo to gallery
6. Glitter Heels
Brit + Co made some really rad glitter heels that are just too perfect not to swoon over. Grab the details after the jump!
7. Ombre Dip Dye Flats
How gorgeous are these ombre flats? Follow closely along with the tutorial at Swellmayde to learn how to make these all on your own!
8. Belted Boots
Brit + Co has another genius shoe diy up their sleeves! Check out these belted boots and how easy it is to jazz up an older pair.
9. Sparkle Vans
Check out Honestly WTF for another Miu Miu-inspired pair of shoes. Grab a pair of sneaks that need a makeover and give it the ultimate glam look!
10. Collage Vans
Put your creativity and artistic ability to the test with this idea from A Beautiful Mess. We are loving this "collage" innovation and how personalized you can make it all!
11. Galaxy Sneakers
This DIY idea is "out of the world!" SwellMayde shows us how to make these rad galaxy sneakers in a mere afternoon!
12. Pineapple Canvas Slip-ons
Flamingo Toes used pineapples as inspiration and created these cuties. How adorable would these be to pack in your beach bag?
13. Watermelon Sneakers
Why not instead of pineapples, you go for watermelon inspiration? Check out these charming sneakers over at Tybounty?
14. Lace Converse
My Little Secret made a par of Converse sneakers even more girlish and cute. Add a bit of lace and follow the tutorial after the jump!
15. Fabric Covered Pumps
Visit All Day Chic for a tutorial that teaches you how to cover an older pair of heels with some snazzy fabric. It's a great upcycling idea!
16. Ice Cream Sprinkles Sneakers
Personally, I'm absolutely in love with these sprinkle sneakers from Dream Green DIY. They're a favorite on the list and so easy to recreate!
17. Dorothy Heels
Check out Crafts After College for the directions on how to make this happen. If Dorothy has always been an inspiration to you, you better click the link now!
18. Lace Up Point Flats
A Pair & A Spare has a quick DIY that you'll fall in love with. These pointed flats got the ballet treatment with just a few short directions!
19. Fluffy Heels
Take some inspiration from Spikes & Sequins and add some fluff to your heels. It's a bit sexy and a whole lot of extra fun.
20. Sundae Flats
Over at Somerset Place, you'll see some "sprinkles" as a form inspiration again. Turn your flats into sundae surprises in an afternoon.
21. Studded Converse
Head on over to Brit + Co again for this snazzy idea. Grab your favorite Converses and give them an easy breeze and edgy makeover!
22. Tribal Heels
A Pair and A Spare has these super awesome tribal heels featured on their site. And we're in love with the innovative and trendiness!
23. Pink Tassel Sandals
These strappy-heeled sandals just got a whole lot more adorable. The DIY is over at Honestly WTF and it's so easy!
24. Monogram Converses
Polka Dot Chair shows us all how to monogram your shoes! And we are loving this look on a pair of classic Chuck Taylors.
25. Tie Dye Shoes
Check out these rainbow tie dye shoes over at A Pumpkin And A Princess. You'll love the fun colors and easy makeover this gives older sneakers.