SHOE PHOTOGRAPHY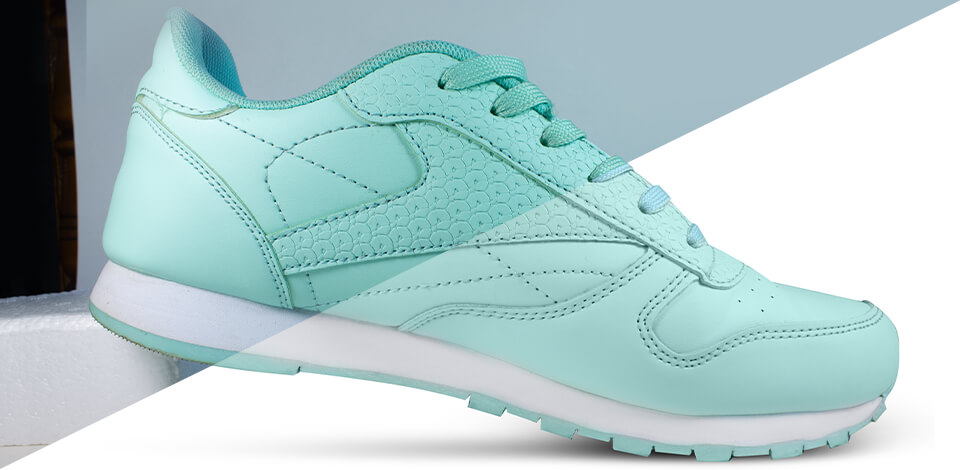 Quality footwear photography is an important factor in driving shoes sales. As a product photographer I have a problem that we're not always photographing the most gorgeous things as a woman on the beach or exotic sports cars, it's a product, namely shoe photography.
Contents:
Let's find out how to take shoe photography for either a magazine ad or a catalog page professionally. Quality footwear photography is an important factor in driving shoes sales. As a product photographer I have a problem that we're not always photographing the most gorgeous things as a woman on the beach or exotic sports cars, it's a product, namely shoe photography. This footwear means much to the client so we have to treat it like it is an exotic sports car or a fancy fashion shot.
Whether you are making your own website, presenting Instagram shoes for sale or shooting interesting and creative ads, these shoe photography tips will help you create quality and interesting pictures.
Tip 1 – White Background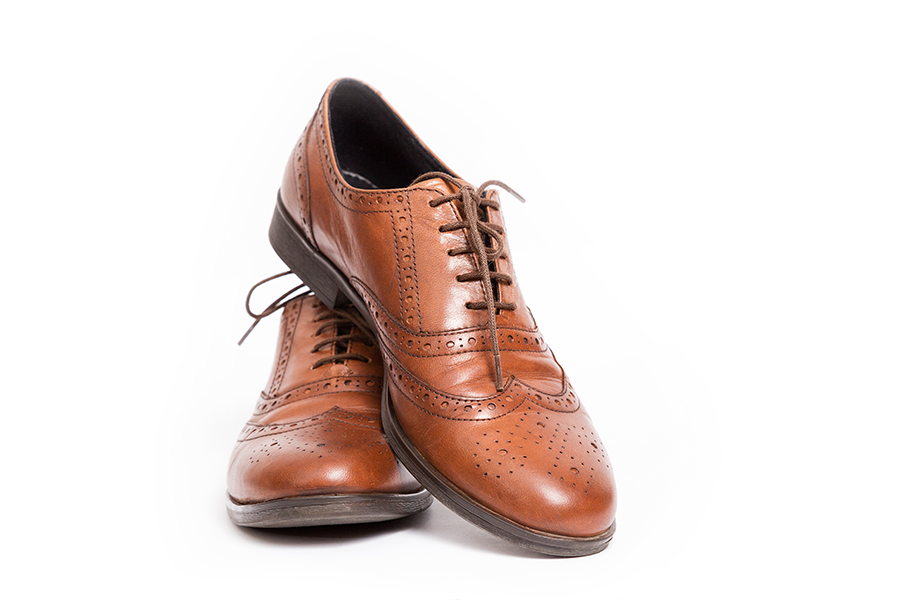 Don't use colored backgrounds, they spoil the color of your shoes.
Prefer a paper sweep because sweeps get dirty, and you can just cut off the dirty part and roll a new piece down.
Don't let direct sunlight hit your set, it is harsh and looks bad on products.
Set your white balance (WB) to auto (AWB).
If you don't have a light box, use three lamps, one on top, left and right for the best light.
Stuff the shoe with tissue or crumpled paper or use dental floss to the shoe's straps to hold them up in the frame.
Make sure that footwear looks its best by creating the illusion that it is being worn by someone.
Shoes on a white background look very neat and stylish. Choose such a background color if you want to learn how to photograph shoes for sale in online stores as Amazon or eBay. This method allows you to concentrate on shoes, without being distracted by the background, the environment, the model and other factors. Remember about shadows and proper lighting.
Tip 2 – Model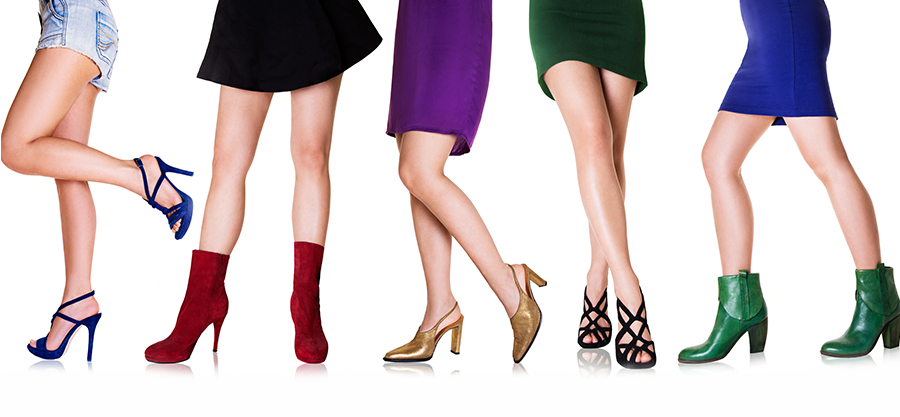 Chose shoes' sizes: 7 for women, 9 for men.
For the photos you need models with slender legs.
Don't photograph the entire figure of the model, the legs will be enough.
Shoot the model in motion (dancing, walking, jumping).
The model's outfit should suit the shoes' color palette.
In fact, the presence of a model in a shoe photo makes it more contextual and attracts greater attention. It seems that there is no emptiness in the focus. The model may try different poses to present the shoes as lucrative as possible. Customers like to see how shoes look on feet.
Tip 3 – Angles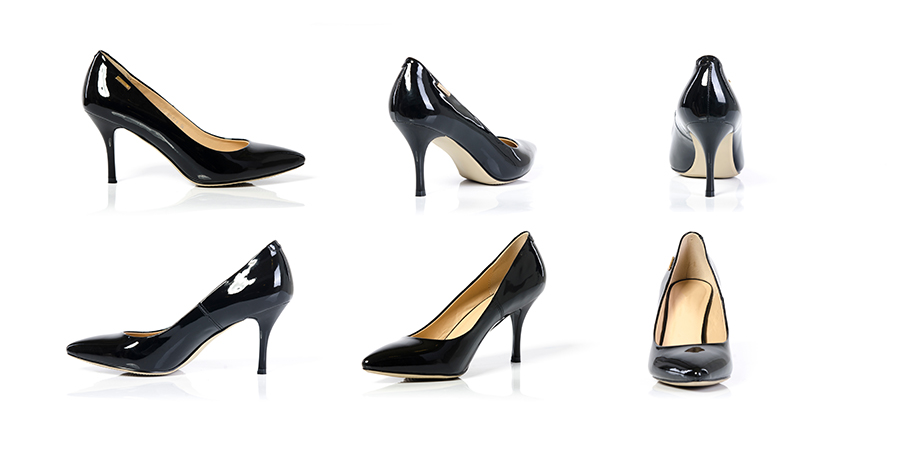 Capture as many angles as possible.
Photograph the side view.
Photograph the view from the back.
Photograph the top view.
Photograph a view of the product turned slightly to the left / right.
Take a "detail" shot closer to show texture, material, etc.
Every client is willing to learn as many details about the product as possible. Lots of Instagram shoe pages present shoes photographed from different angles, so everybody can see the color, the sole, the height of a heel or a platform, different ornaments and decorations. Take as many photos as possible:
Tip 4 – Product Photo Retouching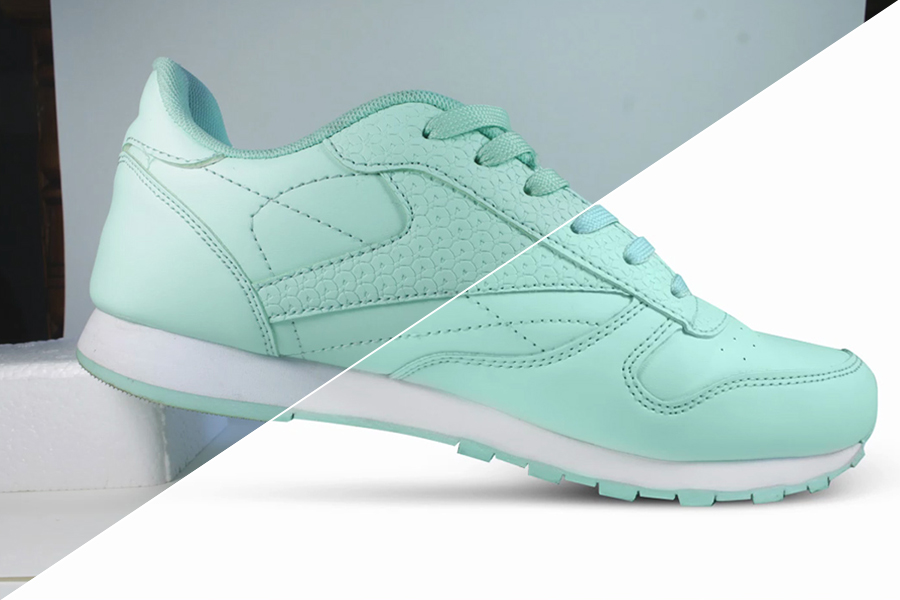 Make pure white background via clipping path.
Add the borders.
Provide natural shadows.
Do smart cropping.
To show several photos of shoe from different angles on one photo, draw lines designating the bottoms and tops of the shoes so that you can move the images correctly in relation to each other.
Recolor elements if they were changed because of poor lighting.
Don't make too much photo retouching, the shoes should look as they are in real.
We made this tutorial to show you how to cut out and retouch product photo that you took at home on a bad backdrop. You'll learn how to make some adjustments to create a more professional look.Boot Retouching
Step 1 – We have the DIY photo. It's not the best one. The shoe is being propped up with several lamps, colors are not clear, but we are going to fix that. Open Photoshop.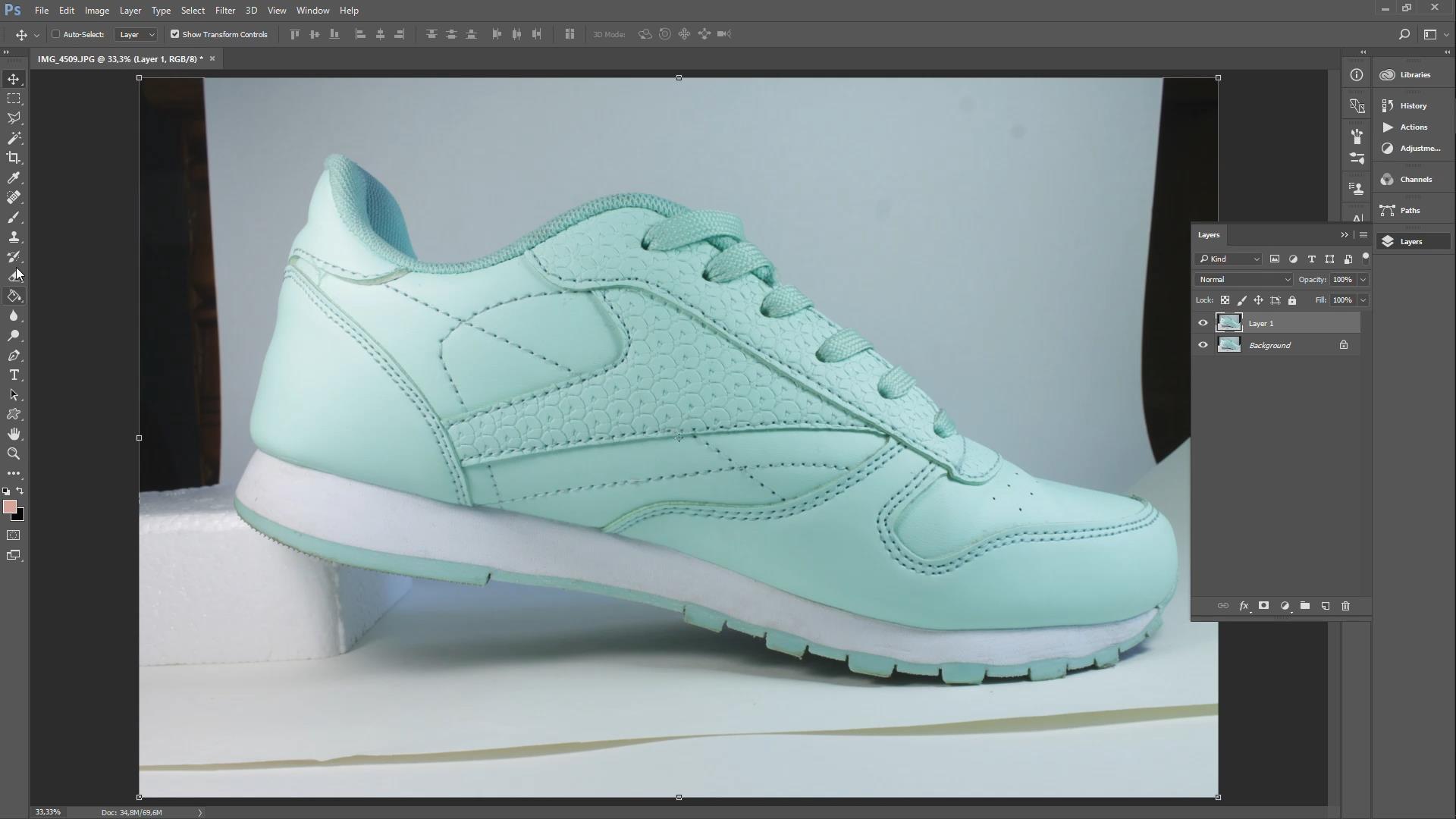 Step 2 – Let's start with the Pen Tool, which you'll find on Tools Panel. This tool is used to select areas of the image with clear boundaries. You can left-click and draw anchor points, then you just click somewhere else to do straight lines or you can click, hold and then move the mouse to adjust the curve.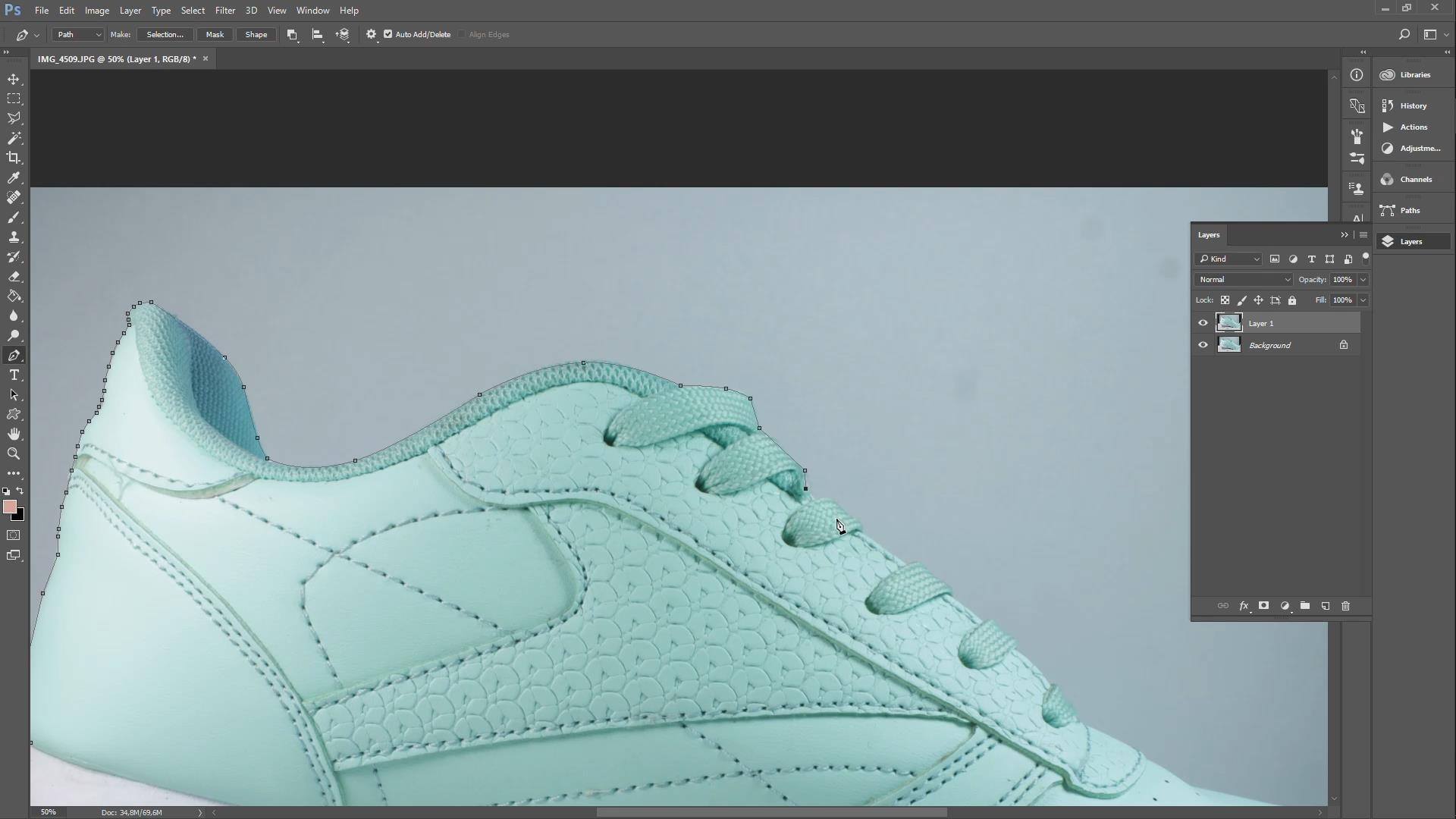 Step 3 – So, you can cut out this shoe by drawing the lines around all the edges. It can take some time.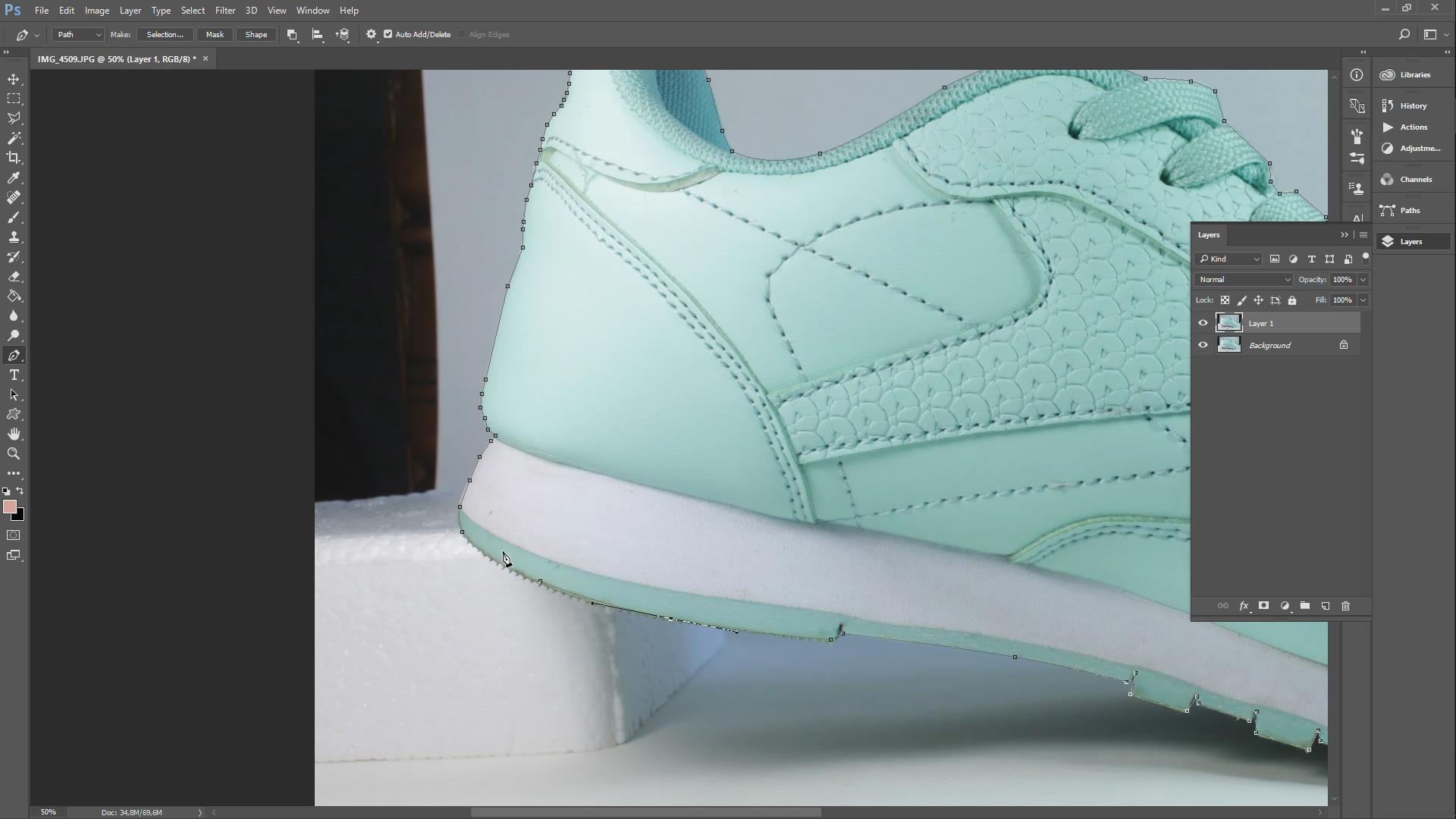 Step 4 – After you have pinned your product, you can cut out it from the background. To do this make a right-click on the selection and choose Make selection. After this click the Mask icon on Workspace Options Panel and choose Invert in Layer Tool. After this put the New Layer with white background under the shoe.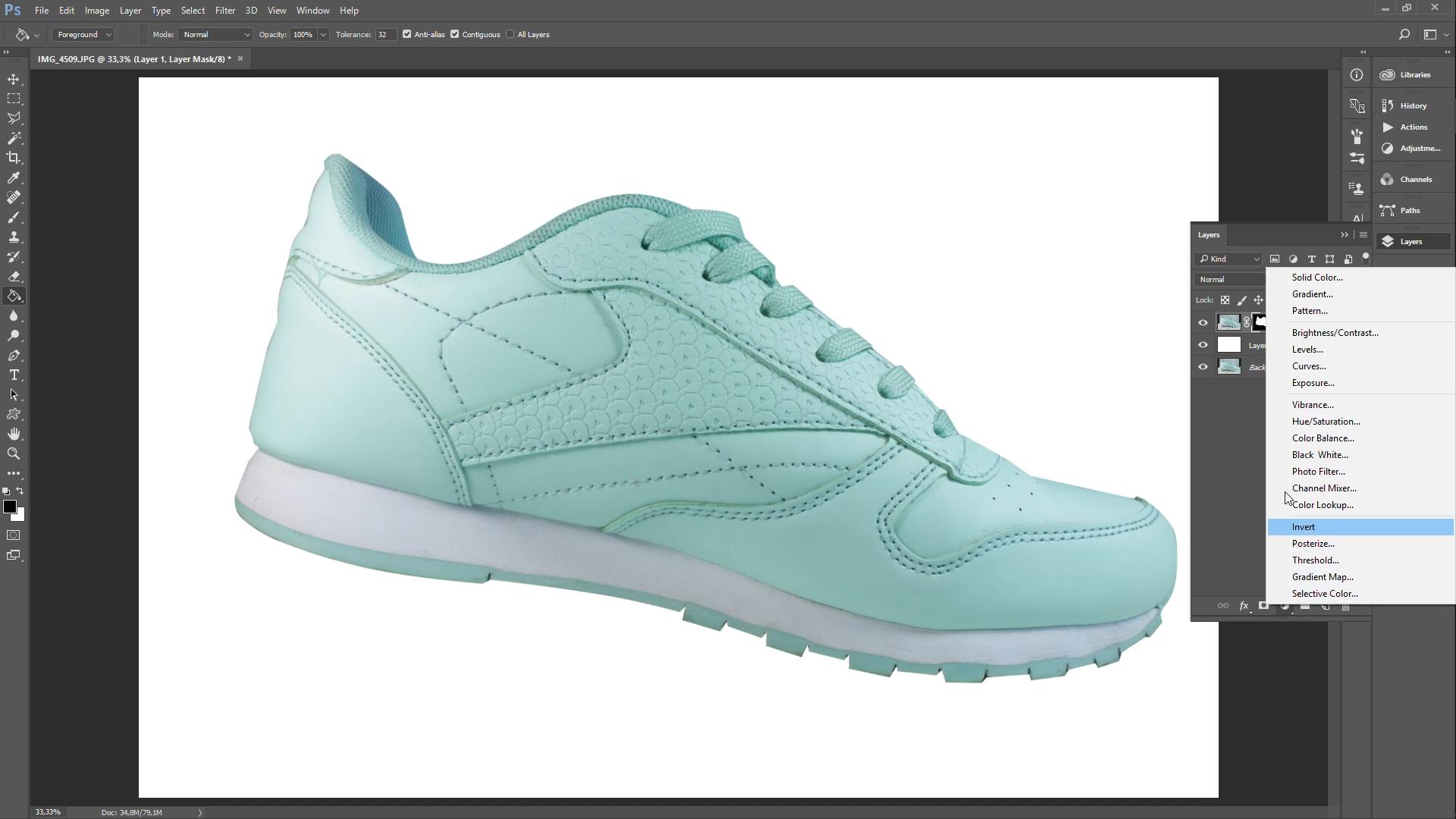 Step 5 – Congratulations! Our shoe is successfully cut out and placed on a white background. Some photographers are finishing the editing of the picture at this stage, but we will do some additional editing to make the photo look natural. Create Curve Layer to adjust the color of the shoe to make it deeper. You can even create a New Layer and use Brush Tool with appropriate colors to make toning of the product clearer.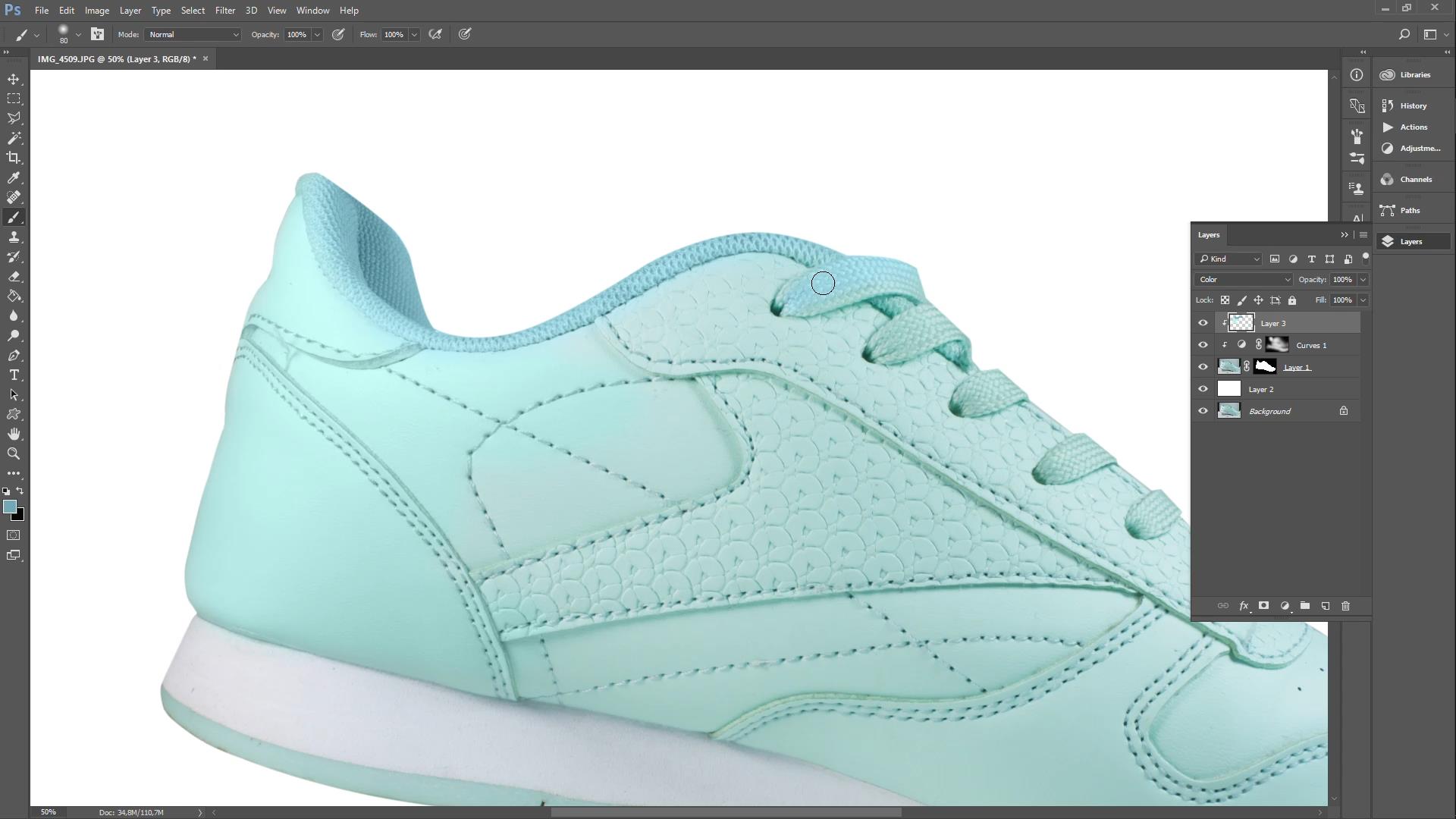 Step 6 – Make the white parts of the shoe whiter by adjusting the Hue/Saturation.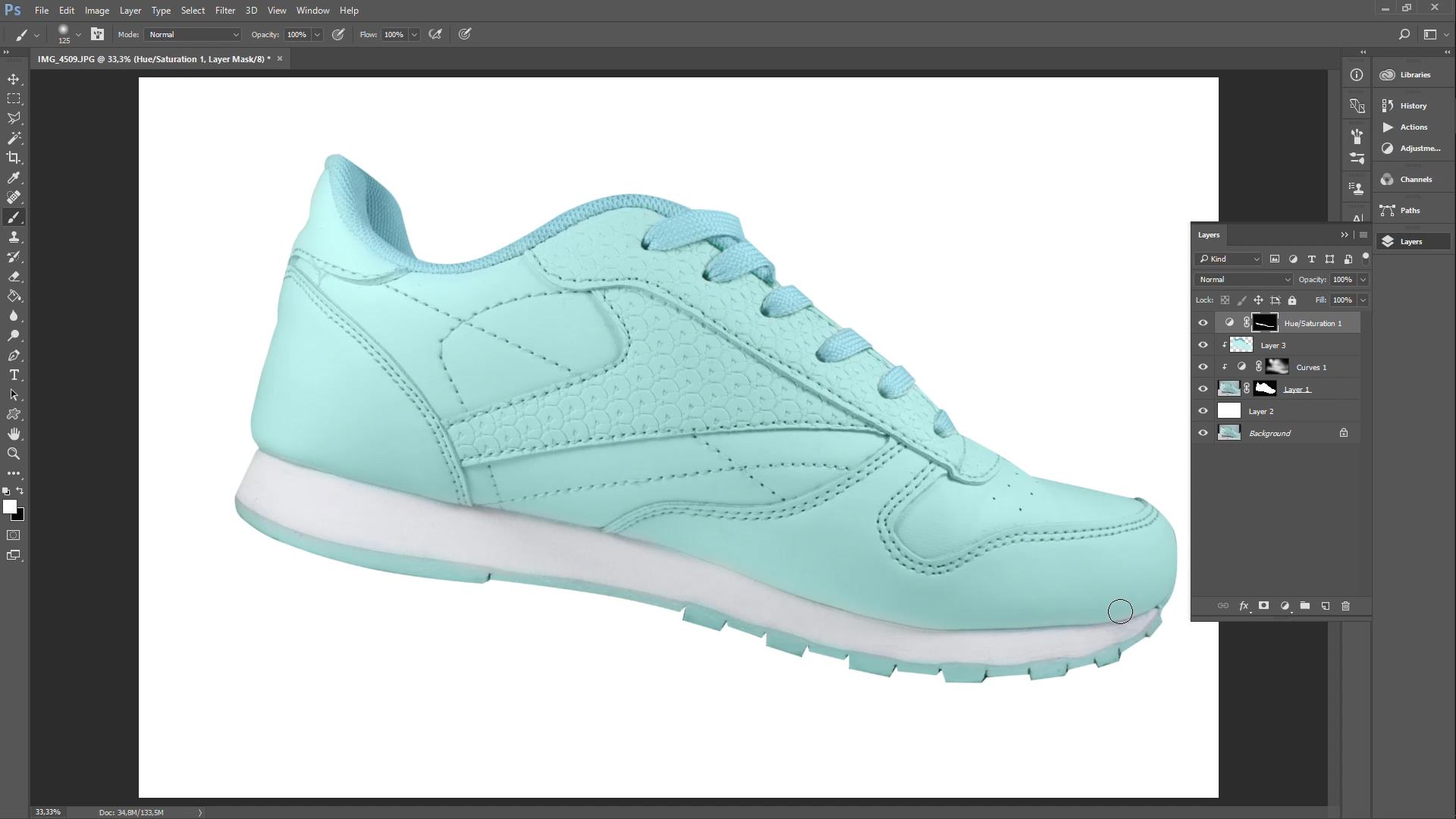 Step 7 – Now it' time to apply shadow, this will help you avoid the cartoonish look of the photo and make it more real. Create New Layer under the layer with the shoe and make a big smear with Brush Tool of black color. Transform the smear by using shortcut of Cmd (Ctrl) + T.
The product photo of the shoe is ready to be placed on page of online store or your Instagram.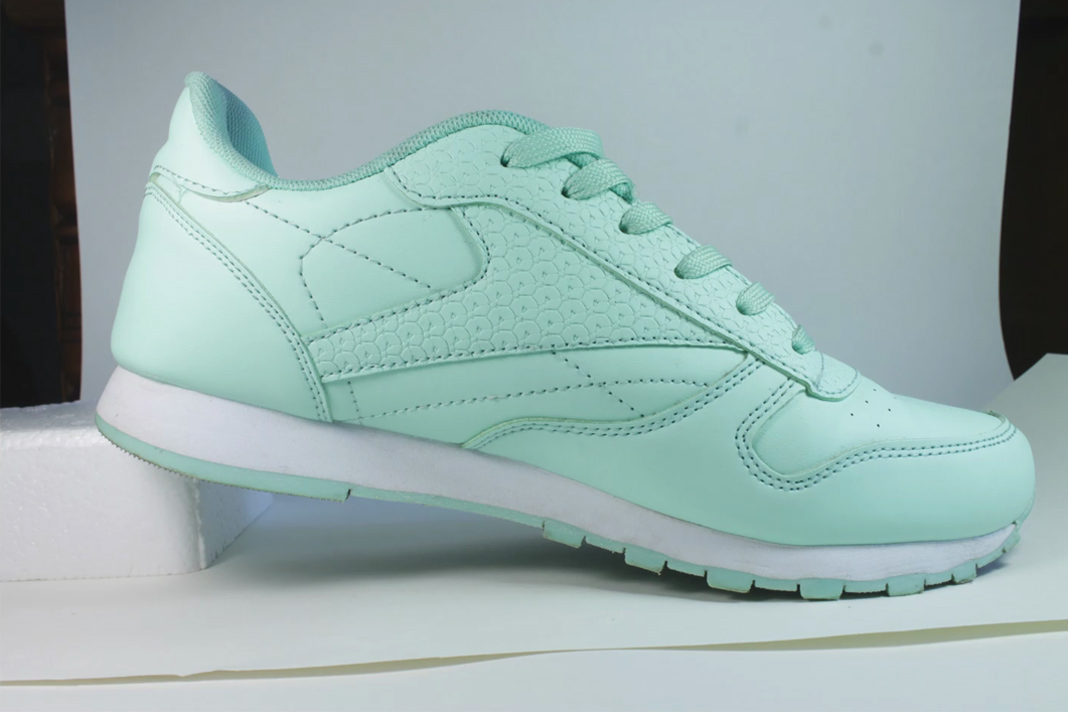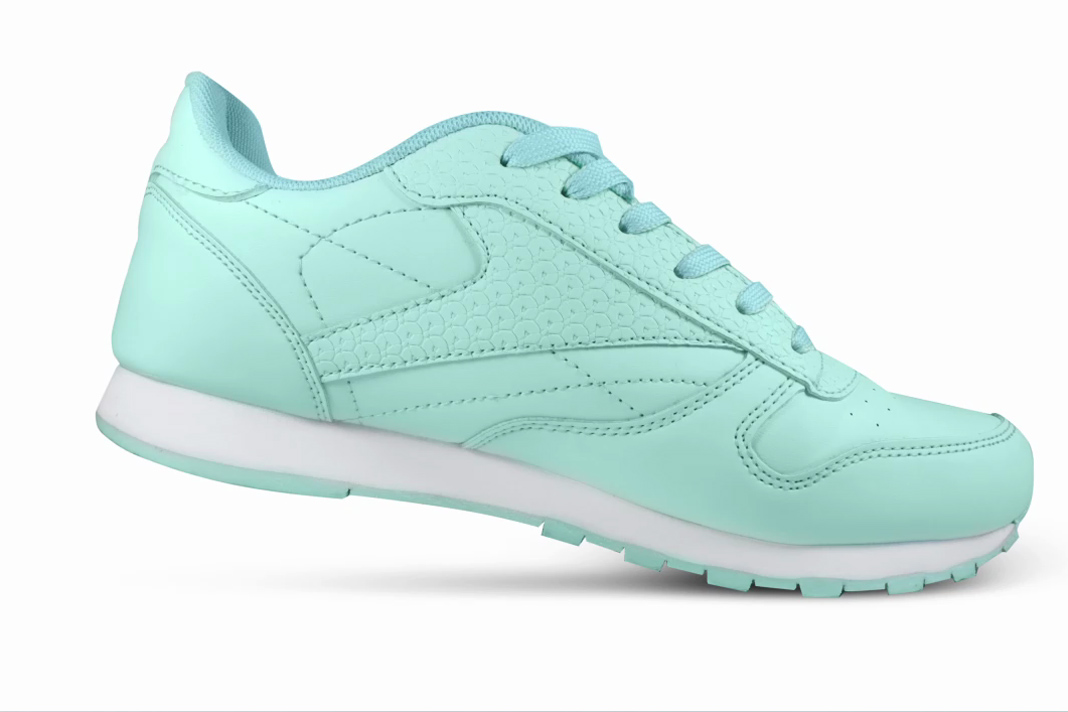 Tip 5 – Shooting 360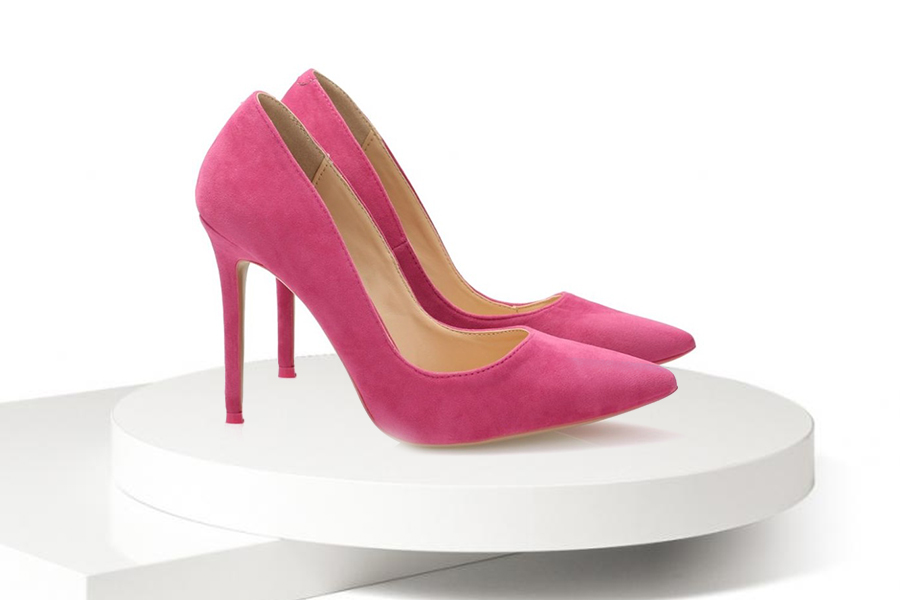 If your product isn't placed in the center of the turntable it may appear to "wobble" when spun, so center your product.
Shoot at least 24 frames.
Be careful not to shoot the starting frame twice.
Make sure each angle is evenly spaced.
Shoot the first shot of the product facing forwards.
Thought it is a relatively new advancement, 360 product photography is very beneficial for shoe photography. With this method, there are no blank places in a photo. You see a product from each and every angle. If your profession is connected straightly with this photography genre, take care of buying some specific 360 equipment to easy and boost your job.
Tip 6 – Flat Lay Shoe Photography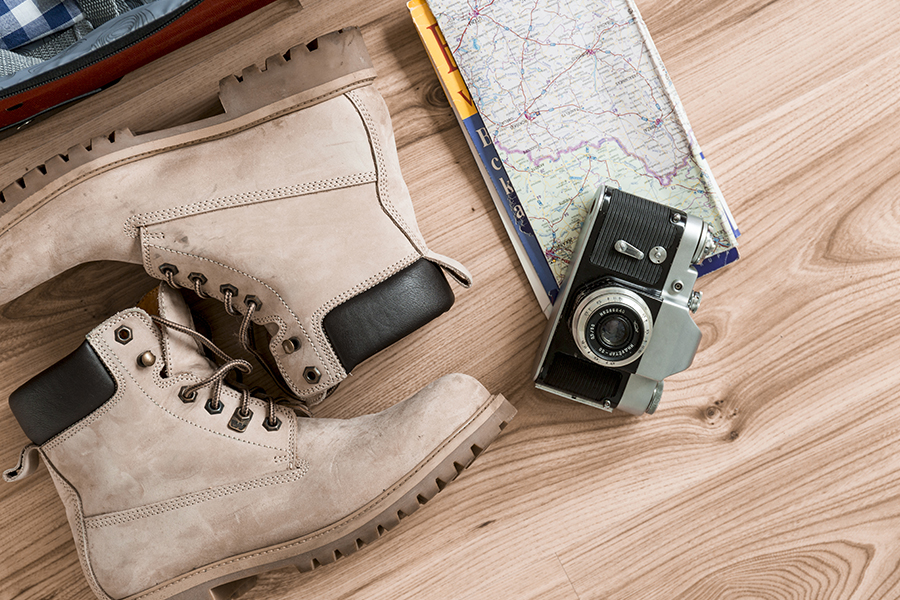 Use the rule of thirds and place the main components on the gridlines of an invisible 3×3 grid.
Overhead shots are ideal for flat lay photography.
Choose 2-3 unifying colors. This helps provide your image with a consistent theme.
Speaking of colors, choose a neutral background, like a basic white, or, depending on your subject, a wood floor, desk, or table.
Use a blank space to unite your image and make it more interesting.
Avoid the urge to use a high-powered lamp to brighten the image.
This way of footwear photography is popular among Instagram sellers and bloggers who put shoes close to other objects and take a photo from above. Here the main thing is color palette and natural lightning.
Tip 7 – Context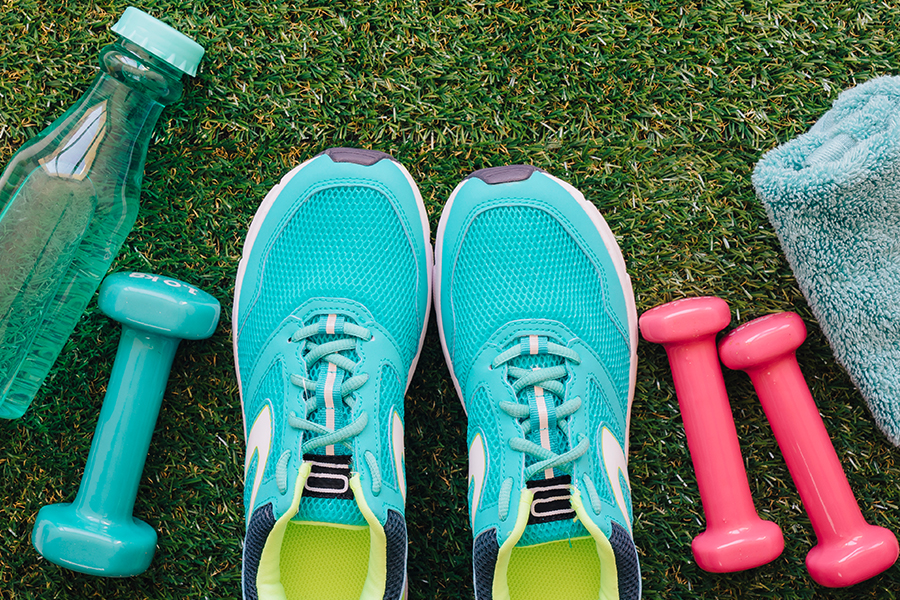 Use plain paper backdrops for a classic effect and use acrylic for a glossier look.
Try to use lifestyle photos only as an addition to the main studio photos on a white background not instead of them.
When shooting outdoors, always make sure that the shoes match the season.
Mind the color palette: don't use the background in the color of your shoes.
It may be difficult to believe, but such items as common shoes can also "tell" a story. Most of Instagram pages that sell shoes have a main gist, a kind of story that is shown by a pair of footwear. It can be achieved with the help of a proper background, pose of a model, lighting or other features. Context is really important if you want to make customers pay attention to your photos.
Tip 8 – Floating Shoes Photography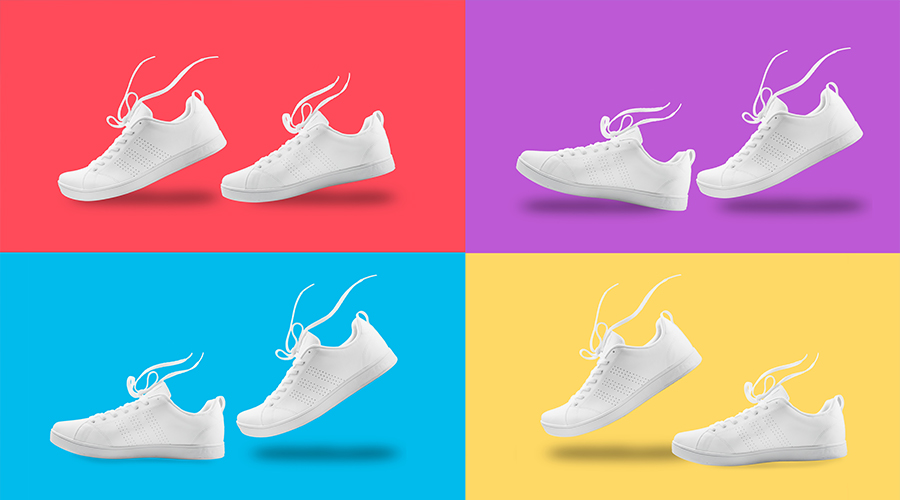 Be sure to use a higher aperture like f/11 on your DSLR camera to get every aspect of your footwear in focus.
Use different setups for different purposes.
Don't use blurry or soft focus.
Use high aperture for full focus
Floating photography resembles something magical! Unusual, creative ads always draw attention and make people wonder what is hidden behind. So, the power of such kind of advertisement is tremendous.
Tip 9 – Shoe Photography Setup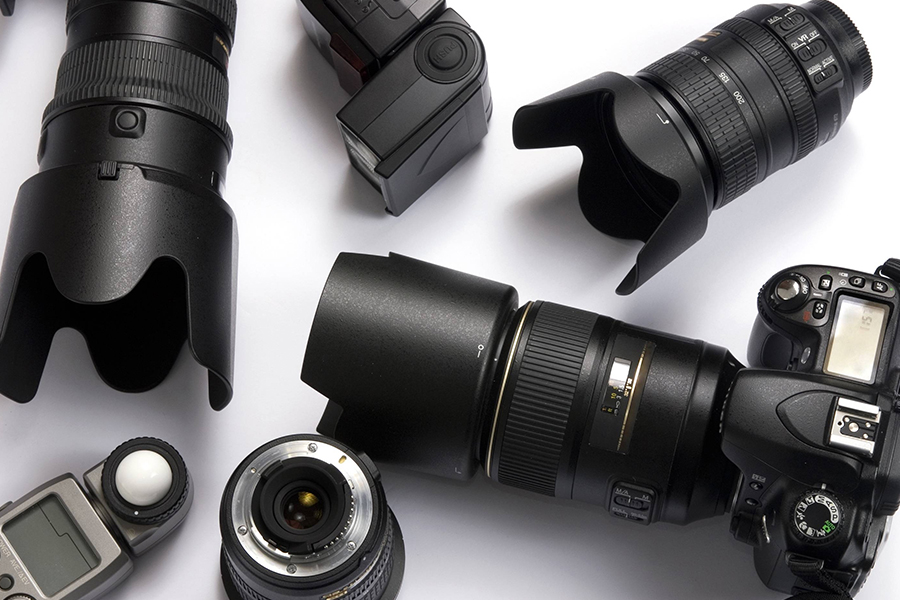 Use light box, it's not expensive about $100.
Harsh, direct lighting that casts deep shadows is the worst type of lighting for product photography.
Take your photos inside next to a large window with natural light streaming in or rent a studio light box setup if you'd like to go the artificial lighting route.
If you must take photos outside, find an thickly-shaded area to get the most even light, and don't even think about taking photos at midday
Shoe product photography may be very profitable in case you know how to style the product and adjust a camera, what shoe photography lighting and background to choose, from which angles to shoot and how to pose a model.
Shoe Photography Instagram
Instagram Shoe Photography Setup

In order to create an image for your page in the Instagram, you don't need anything at all except the camera. You can even use your iPhone. The standard resolution required for the shoe product photography uploaded to the Instagram is 1080px in width by 1080px in height. Instagram pages are often small fashion magazines, so you can shoot your shoes on the model, use a variety of backgrounds and props, shoot in natural light.
For Amazon/eBay Online Store
Online Store Shoe Photography Setup

Camera settings:
Shutter Speed 160
Aperture 1.8
ISO 100
Images for online stores are stricter. You need to shoot on a white background and use a good camera, so that you can take pictures of close angles of all sides of the shoe.
For Brand Magazines
Online Store Shoe Photography Setup

Camera settings:
Shutter Speed 250
Aperture 1.2
ISO 200
Professional photographers who are engaged in shooting shoes for well-known brand magazines use only high-quality expensive shoe photography setup in order to take images. This is due to the fact that printing images requires a very high resolution and ideal photo editing.
Tip 10 – Shoes Photography Lighting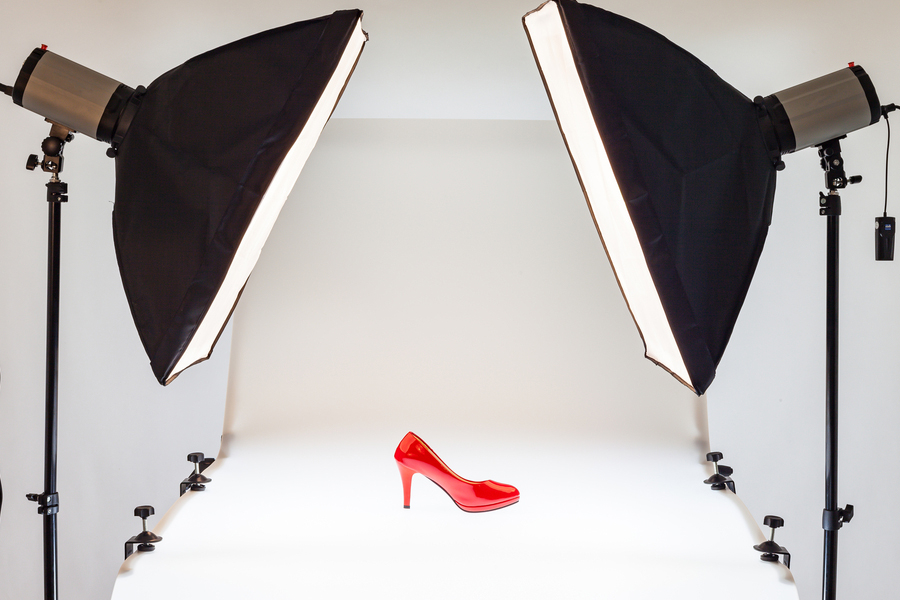 Use a strong thread to float the shoes and the shoelaces.
Use two sources of lighting not to make shadows to harsh.
Switch your camera to manual and set your exposure. Do not change this between shots.
To get rid of areas where your hand is obscuring the object, try using the clone tool in Photoshop.
Regardless of the purpose for which you take your shoes off – for publication on your Instagram page, for an online store or for publication in a magazine, you will need to install and use the product photography lighting setup correctly.
Magazine Shoe Photography Setup

1.Windows Light
2.Diy: Table lamps+White Paper
3.Commercial:Light Box
There is a huge amount of diverse equipment, but this doesn't mean that you need to hurry and use everything, even expensive equipment. The only advice we can give you is use a light box for any kind of photo without a model. That will help minimize shadows.
Another tip for shoe product photography lighting is before choosing equipment, determine what color the product has and how it will react to a certain kind of light. For example, black lacquer shoes will be very glare at excessive light, and light sandals can be lost in insufficient quantities of the light.
In addition, if you are a beginner and just try yourself in photos of shoes, you can use natural light from the window. The only hitch is that you will need to adjust the workspace so that the light is not one-sided and falls evenly.
For those who use artificial light sources as shoes photography lighting, we recommend using two light points. The bright bulbs of 5000k are best for uniformity of light.