15 Alternatives To Heels For Prom 2016 Because Comfort Is Key — PHOTOS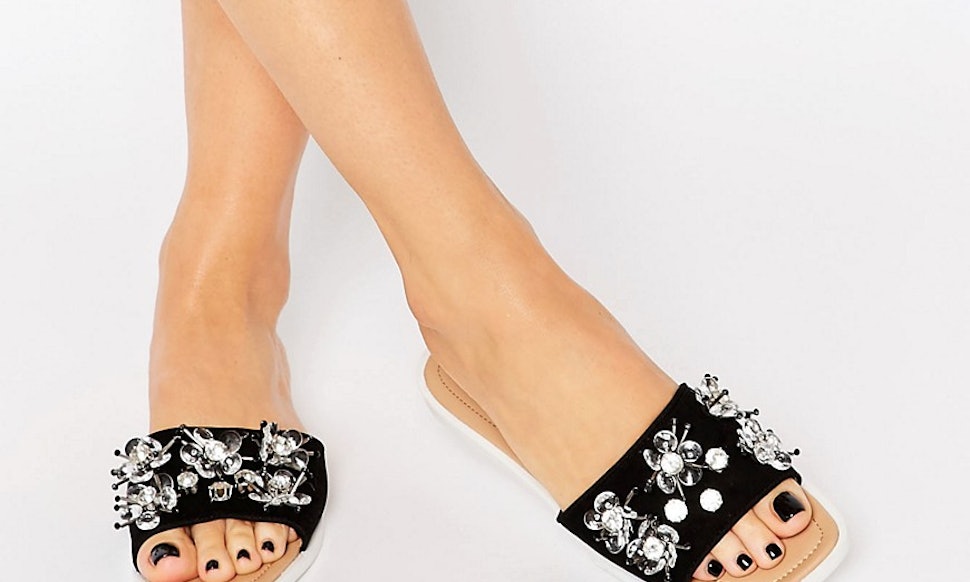 Don't feel like your only choice of prom shoes are sky high stilettos! There are plenty of alternatives to heels for prom 2016 that are just as pretty and even more unique in shape — not to mention ten times more comfortable. So avoid blisters and an accessory debacle by opting for these prom-appropriate styles that will not only infuse your ensemble with some trendy, chic style, but that will also have your feet thanking you when you're on the dance floor all night long.
We often default to wearing heels for formal events because they're a classic silhouette and the obvious choice for a put-together, dressed-up look. But they're also extremely difficult to walk in, often horribly uncomfortable, and sometimes even a little scary looking (I'm supposed to walk on those?!). So whether you're going to prom, attending homecoming or a formal, or even planning for graduation, don't automatically think heels are your only option. Lace-up flats, gladiator sandals, flatforms, even shoes with low, thick heels, are just a few of the other styles available today that are just as pretty, and much more unique and comfortable.
Plus, these options don't have as much of a learning curve when it comes to walking in them. And who really wants that when you've got the rest of your outfit to plan for prom for another special event? So, consider these 15 alternatives. Because heels are not your only option!
1. Lace-Up Flats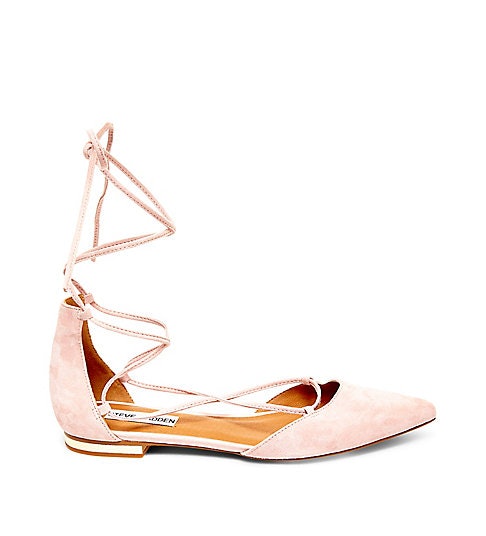 Sunshine, $69.95, Steve Madden
The lace-up shoe trend is all the rage. Why not incorporate it into your prom look with a delicate pair of lace-up flats? They're stylish, trendy, and totally comfortable.
2. Tasseled Sandals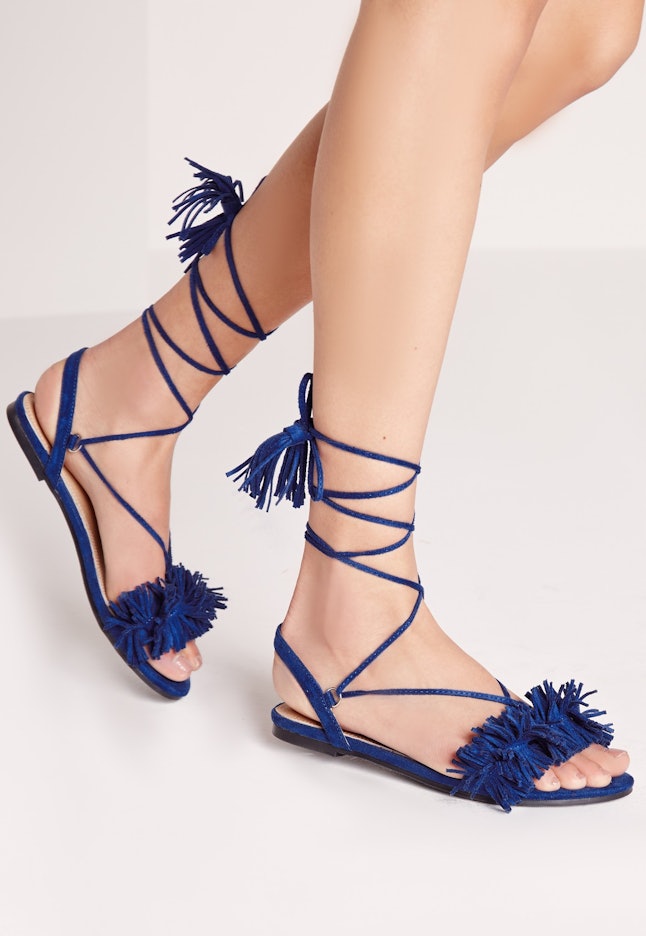 Tassel Front Flat Sandal Cobalt Blue, $34, Missguided
If you're much more of a sandal person, there are options for you, too — including these stunning navy blue, lace-up and tassel detailed sandals. Imagine how cute these would look on the dance floor.
3. Block Heeled Sandal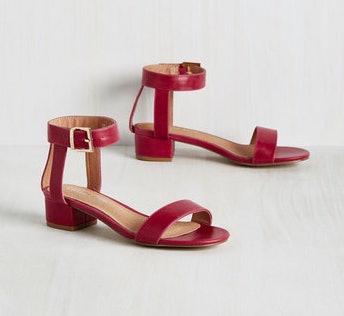 Joy Scout Sandal In Pomegranate, $54.99, ModCloth
If you want height but don't want your feet to suffer, opt for a block heel. Block heeled shoes are much easier to keep your balance on, plus they're cute too!
4. Chunky Sandals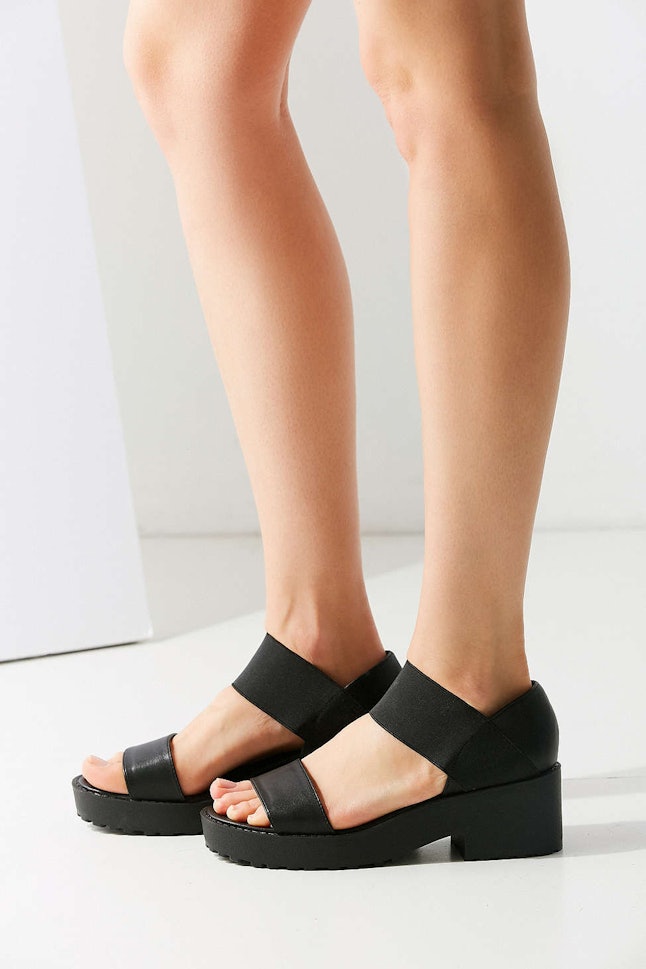 Jaycen Sandal , $59, Urban Outfitters
These are for all my fellow '90s fashion lovers out there. Don't these chunky black sandals give you 1998 vibes? These would look gorgeous with a slip-dress and a choker look for a special event.
5. Flat Espadrilles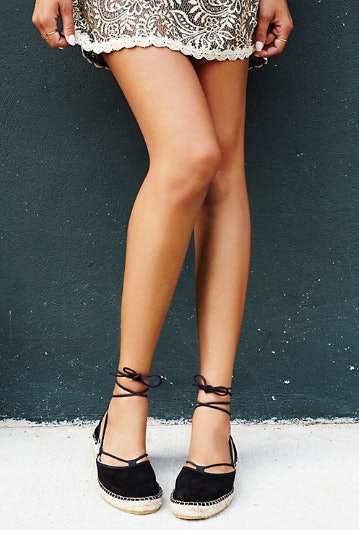 Marina Lace Up Espadrille, $88, Free People
Ahh, the lace-up trend once again — but this time, in a flat espadrille version. How cute are these? If your formal dress screams beachy, boho, then these might be the heel alternatives for you.
6. Oxfords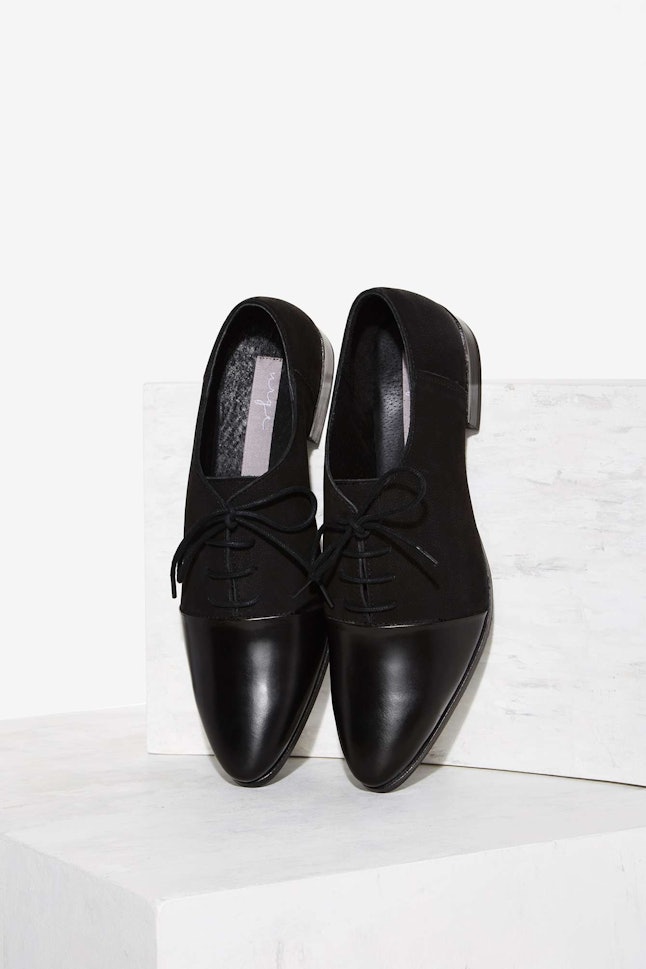 Urge Been Around The Blocked Leather Oxford, $140, Nasty Gal
Oxfords basically scream comfortable style and are also perfect for a formal event. These leather detailed ones would look stunning with a formal jumpsuit for prom.
7. Crochet Closed-Toe Espadrilles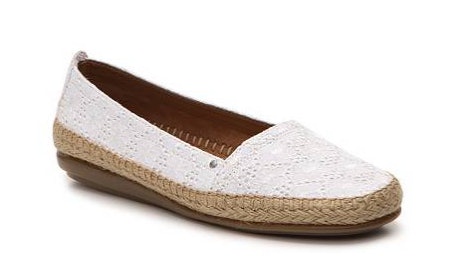 Aerosoles Solitaire Crochet Flat (Wide Width Available), $49.95, DSW
In case you're worried your uncoordinated dance partner is going to be stepping on your toes all night, opt for a chic closed-toe option like these crochet flats.
8. Gladiator Sandals
Daisy Street Lace Up Gladiator Flat Sandals, $39, ASOS
Another big shoe trend at the moment is the gladiator sandal. If you're channeling Kendall Jenner at the MTV Movie Awards for prom but don't want the uncomfortable high heel, opt for a flat gladiator sandal. They're just as pretty and chic.
9. Mini Wedges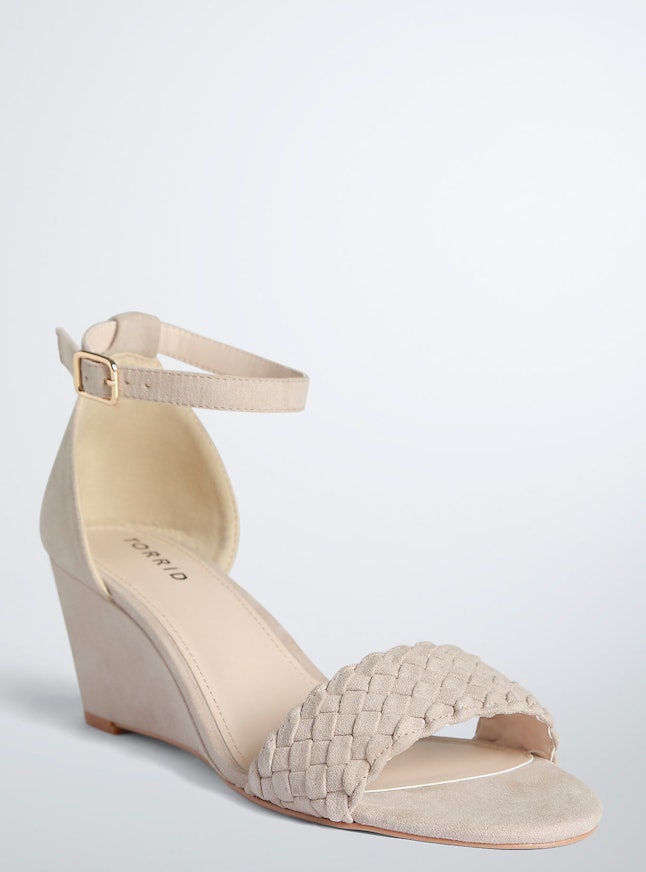 Braided Mini Wedges (Wide Width), $34.87, Torrid
Mini wedges still have the silhouette of a wedge, but with less of a heel and whole lot more comfort. These stunning sandals would look gorgeous with a long tulle gown, and even worn all throughout summer.
Want more fashion and beauty tips? Check out the video below and subscribe to Bustle on YouTube!
10. Slides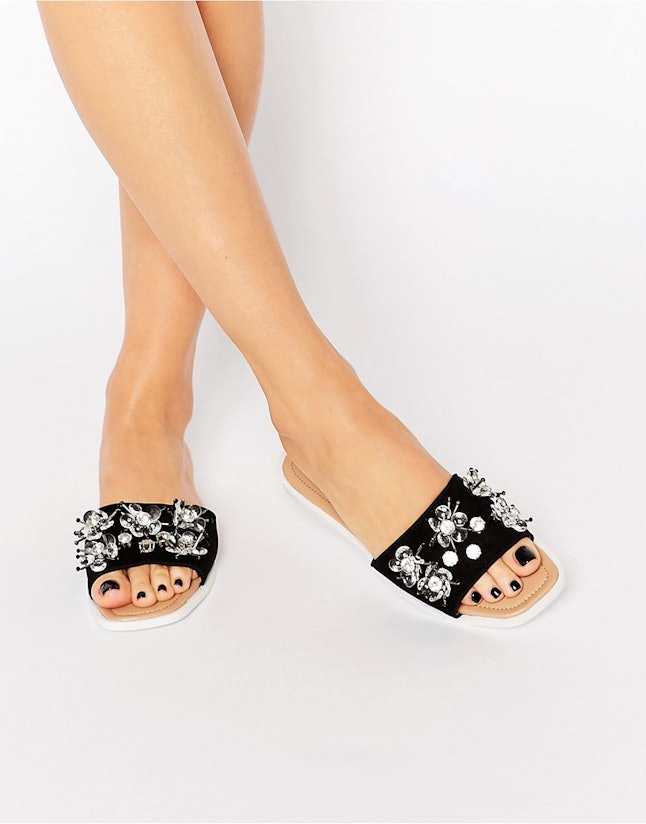 Miss KG Embellished Slider, $81, ASOS
Even though slide-on sandals are admittedly a little slipper-esque, they're uber-trendy and also come in super chic styles. These embellished versions are so pretty, and they'd be perfect paired with a hi-low skirt on a gown.
11. Sneakers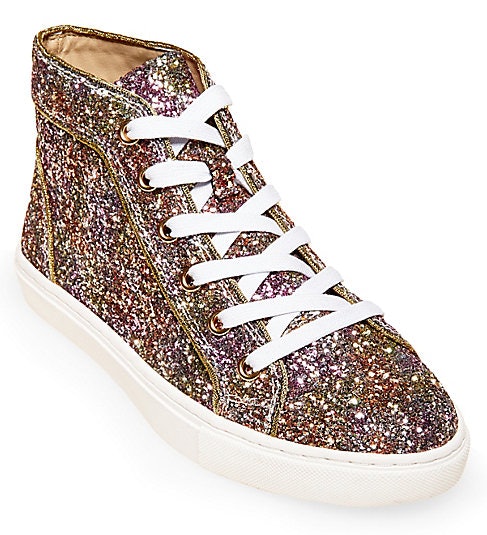 Levels-G, $88.95, Steve Madden
Just because the invitation says formal doesn't mean you have to rule out sneakers altogether! These are comfortable and super stylish. Who wouldn't want to make them the highlight of their prom outfit?
12. Combat Boots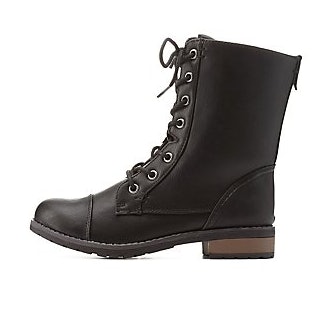 Bamboo Lace-Up Combat Boots, $23.99, Charlotte Russe
If you're feeling even edgier, combat boots might be the answer. Plus, combat boots juxtaposed with tulle just makes for a flawless combination.
13. Jelly Sandals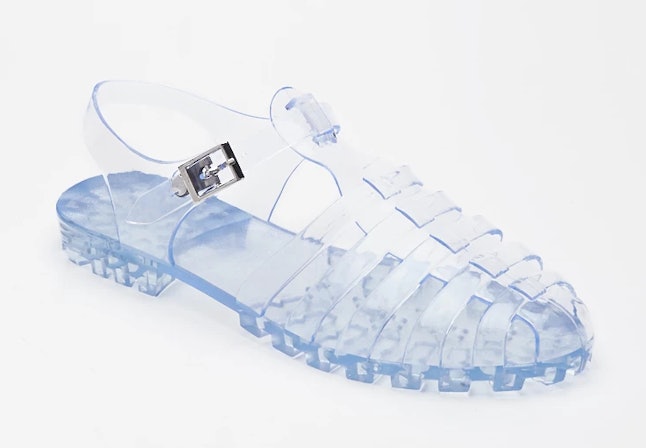 Caged Jelly Sandals, $9.90, Forever 21
Another very '90s prom shoe choice would be jelly sandals. One word of advice if you do take the jelly sandal route: make sure you break them in prior to prom!
14. Booties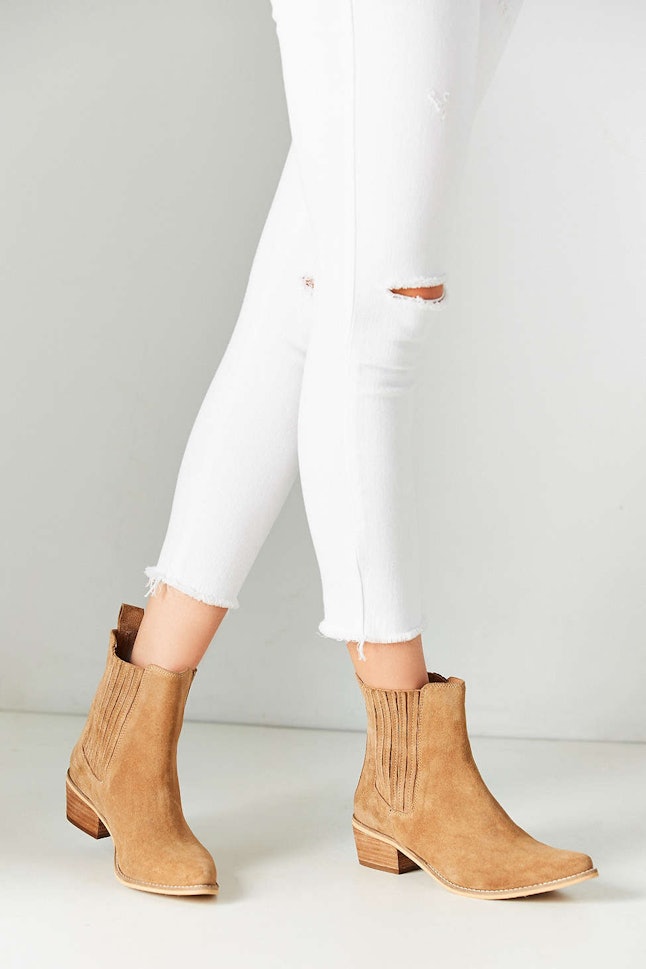 June Pointy Toe Chelsea Boot, $89, Urban Outfitters
If boots are much more your speed, throw on a pair of classic chelseas with your dress. Be prepared to fall in love with the natural, dressed-down look of them together.
15. Embellished Sandals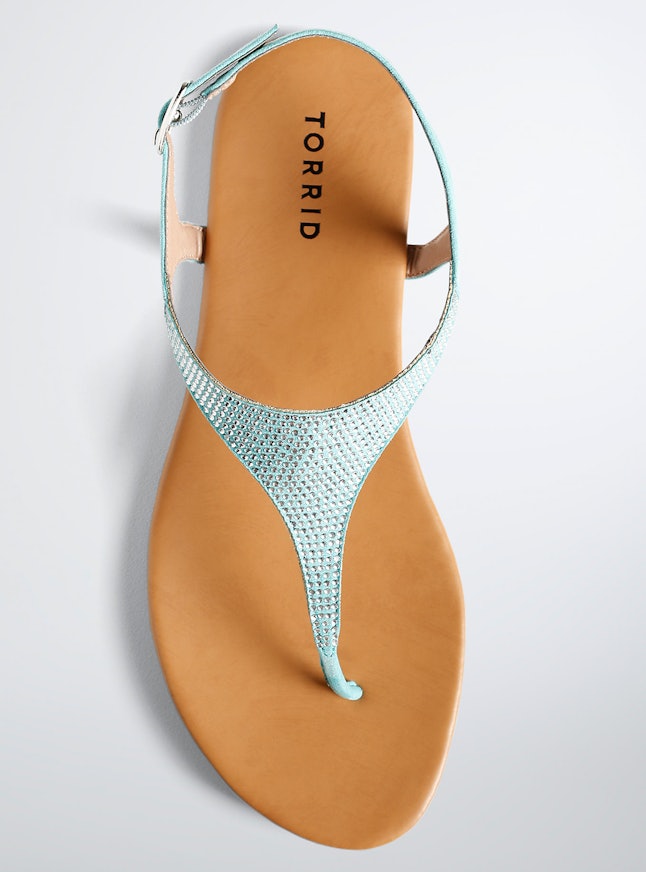 Rhinestone T-Strap Sandals (Wide Width), $24.37, Torrid
Finally, you can't go wrong with a gorgeous pair of sandals with tons of ease, wearability, and comfort. Oh, and the more sparkle, the better!
There you have it, 15 shoes that aren't heels that would be perfect for prom, homecoming, formals, or any other event. Sorry to push you aside heels, but these comfortable, chic, and stylish options are just smarter choices. You're welcome, feet!