DIY Shoes – 25 Fun Makeovers
5 · Sep 20, 2012 · 12 CommentsTotal0FacebookTweetPinEmail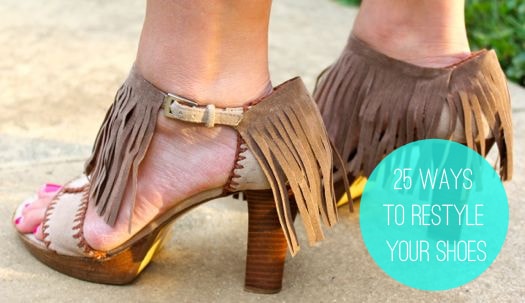 I love a good shoe makeover! It's amazing how many ways there are to transform a plain pair of sneakers or pumps. And luckily most are easy on the DIY-er too. Read on for more DIY shoes inspiration!
DIY Shoes
1. DIY polka dot shoes – Life's a Journal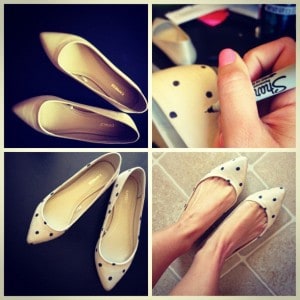 Report this ad
If you're bored with your old pumps, you can give them a boost by adding polka dots to the picture. Quick and chic!
2. DIY: Cap toe shoes – Lulus à la mode blog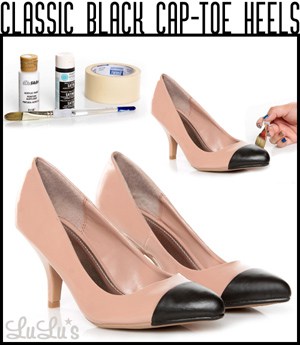 Cap toe shoes are very in right now, and you don't have to buy a new pair to follow the trend. Just upgrade your old shoes with this DIY!
3. Insole Heaven – Grosgrain fabulous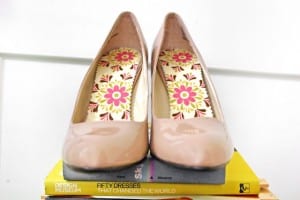 Report this ad
Thrifted shoes don't often come with pretty insoles. But you can change them real quick and add a personal touch in the process!
4. DIY dressed up high heels – The Mother Huddle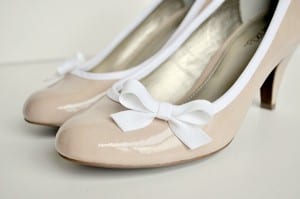 Add a lovely bow to a pair of heels and make them look unique! Use glue and bias tape, and a simple pair of heels.
5. DIY studded heel backs – In Honor of Design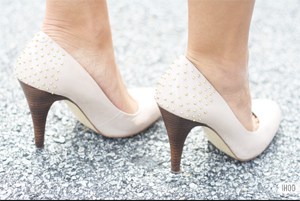 The best thing about this DIY is that you can remove the studs if you're ever sick of them!
6. Kitty loafer – P.S. I Made This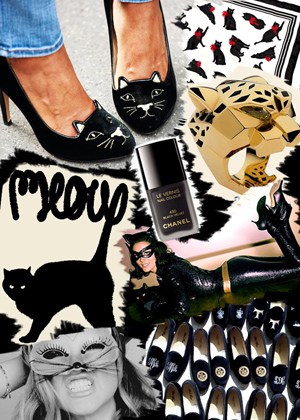 Can't resist feline accessories? Than turn a pair of black flats into a pair of black cat flats!
7. DIY Anthropologie scarf flats – Stars for Streetlights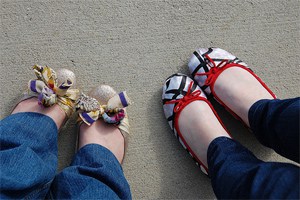 Use a scarf that you have around and a pair of flats to get the amazing Anthro effect!
8. Elastic shoes – Instructables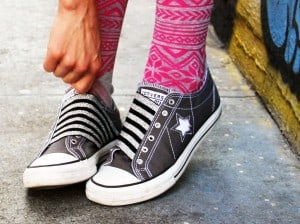 Time for some comfort! How about spending less time tying your shoes and more time enjoying your walk?
9. DIY barefoot sandal + shoe enhances – Love Maegan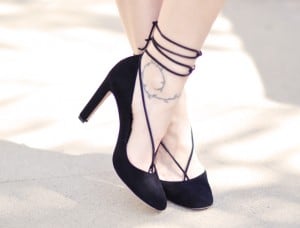 If your bare feet need a little drama, this is for you. Same if you want to add an extra something to your pumps, without making it permanent.
10. DIY Miu Miu jeweled heels – Honestly WTF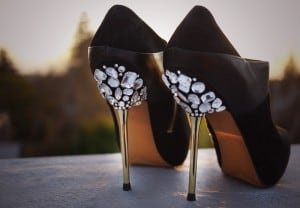 Isn't Miu Miu the best shoe inspiration? Here's how to make your heels as stunning as theirs.
11. DIY Baskets – Helluh Diary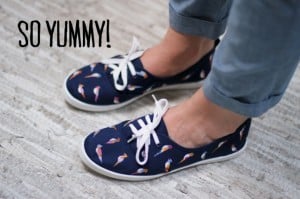 Now this one's in French, but you can surely understand how they're made just by looking at the pictures. A great and original way of customizing a pair of sneakers!
12. Painting Toms – Lil Blue Boo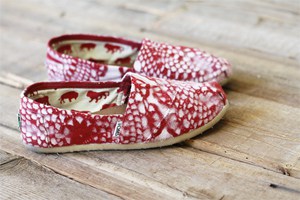 Lace is so in, wouldn't it look great on a pair of Toms? Yes it would, and you can DIY that!
13. Dip dye ombre ballet flats – State of Unique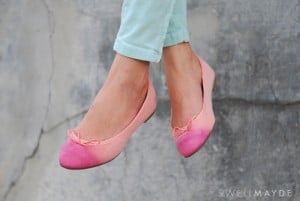 Ombre is huge right now, from hair to… flats! Make your own using the dip dye technique.
14. DIY Burberry tribal high heels – A Pair and a Spare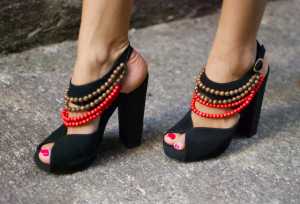 Get a high fashion look with just some wooden beads and string. Take that, Burberry!
15. DIY glittery soles – Could I Have That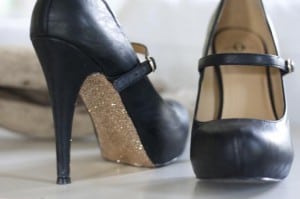 If you like glitter, but aren't ready to go full-shoe yet, how about making just the sole of your shoe shine?
16. DIY fringe shoes – Hello Glow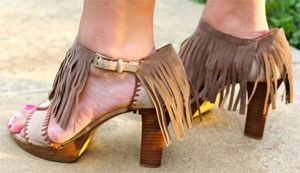 Add a bit of fringe in your life and you'll feel like you're floating on air.
17. Tie dye galaxy shoe – Swellmayde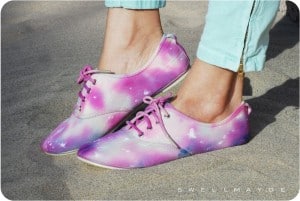 Galaxy print is a difficult trend to wear when you're not an edgy teen. However, wearing it on your shoes is an option for everyone!
18. DIY saddle shoes – Bleubird Vintage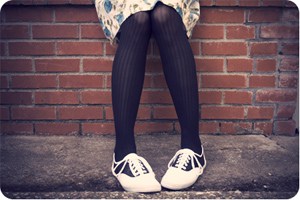 White canvas sneakers and sharpies make a great pair. They even make saddle shoes!
19. DIY studded flats – With an i.e.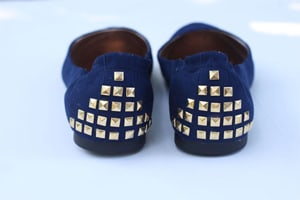 We need to put studs on everything, guys! Ballet flats will look edgier with them on the back.
20. How to: winged shoes – My Poppet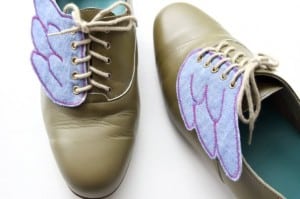 A pair of shoes so comfortable that you feel like flying… Add wings to yours and perhaps you might!
21. Dull feet chevron shoes – Time for Tea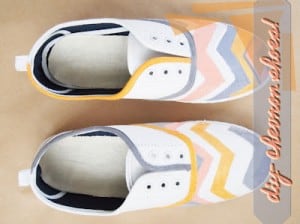 Chevron looks amazing, especially in pastel colors like these! Use it to upgrade a white pair of canvas sneakers.
22. Ribbon bow shoe clips DIY – Carry On Carry On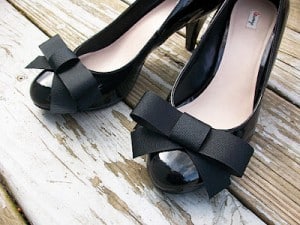 The minute you add a bow to a pair of shoes, they will look brand new and way cuter.
23. Restyled moccasins – Rebekah Gough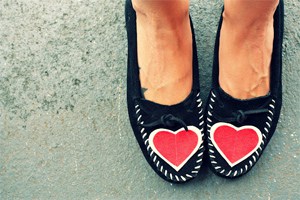 Fall in love with your moccasins all over again by giving them a new face. Hearts included!
24. Dipped & polka dotted flats – Sugar and Cloth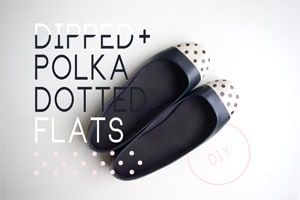 It doesn't really get much cuter than a pair of polka dotted flats, especially when just the tip is dotted!
25. Cole Haan inspired brogues – Hey! Look what I Made!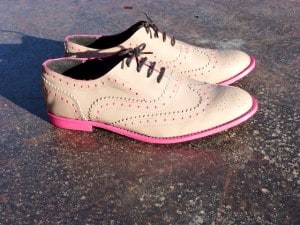 Have you been sighing over those neon sole brogues from the street fashion blogs? Now you can make your own at a well affordable price.