How to Style All Your Different Ankle Boots This Season
From a snakeskin print to a fiery red color.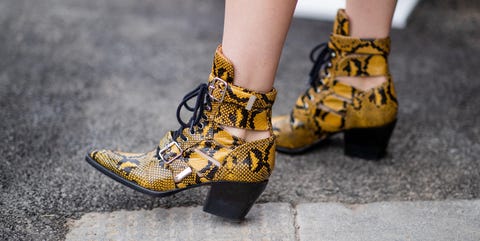 Unlike some footwear (remember Vetements orange thigh-high boots?), which gives you heart palpitations when figuring out how to wear them, ankle boots are your harmless, everyday shoes. They're familiar. They're versatile. And this season, they come in many prints and colors, ranging from snakeskin to a bold red. Go ahead and stow away your summer flats and peep-toe mules, then refresh your memory on how to style this classic ankle boot.
The Snakeskin Boot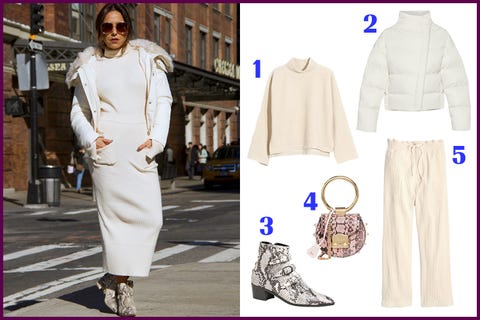 Getty/Design by Morgan McMullen
Snakeskin boots might look intimidating to wear, much like a faux fur coat, but once you take the plunge, you'll feel fierce. One way to draw the attention to your boots and make sure they don't clash with your outfit is to embrace your "winter whites." This Madewell velour set saves the day because you don't have to worry about finding the right top and pants combo. Your boots can shine against this white backdrop. Go a step further and add in a snakeskin accessory. You look great.
Shop similar pieces: 1. Madewell velour mockneck top, $70; 2. Theory puffer jacket, $455; 3. Modern Vice jett classic II boots, $398; 4. Salar snakeskin bag, $618; 5. Madewell velour corduroy pants, $80 The Classic Black Boot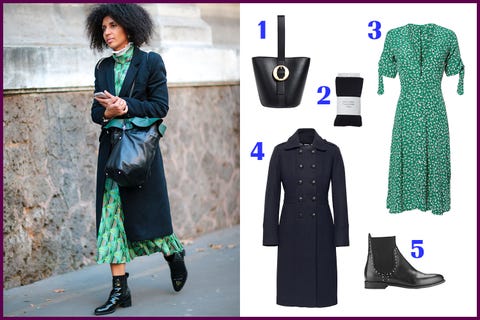 Getty/Design by Morgan McMullen
You probably don't need any more advice on how to style your favorite pair of black boots. After all, they match with everything. If you have yet to try the boots and summer dress combo, however, here's something new. Make your dress winter appropriate with a pair of tights, then choose a slightly edgier ankle boot to go with your feminine ensemble. A double-breasted wool coat and a cool handbag completes your office-ready ensemble.

Shop similar pieces: 1. Flynn marion tote, $295; 2. H&M black tights, $18; 3. Faithfull the Brand midi dress, $49; 4. Banana Republic military coat, $299; 5. M.Gemi the spillo boot, $278 The Fiery Red Boot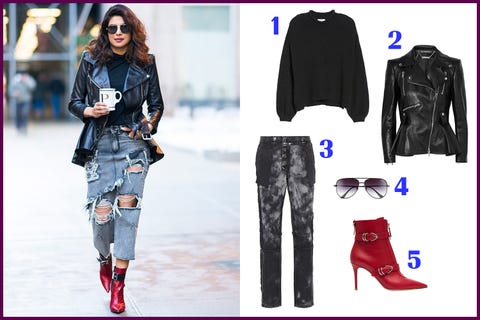 Getty/Design by Morgan McMullen
No stylist? No problem. I'll just look to Priyanka Chopra for some inspiration on how to wear my new red boots. The color is surprisingly easy to style if you own neutral-colored sweaters or black blouses. Since red is a powerful color, go for the same effect up top with a peplum leather jacket and deconstructed jeans. These unconventional designs (the jeans look like they're inside out!) add a dash of originality to your outfit.
Shop similar pieces: 1. BP ballon sweater, $49; 2. Alexander McQueen biker jacket, $4,760; 3. Unravel inside out jeans, $190; 4. Quay x Desi Perkins aviator sunglasses, $65; 5. Gianvito Rossi red boots, $1,425 Advertisement – Continue Reading Below
The Neutral Brown Boot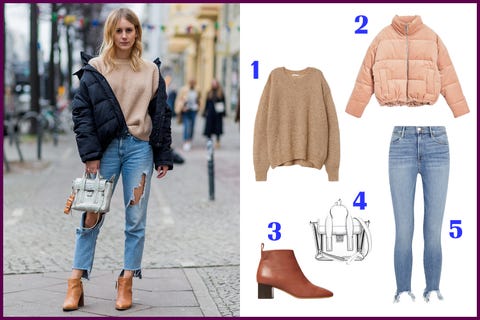 Getty/Design by Morgan McMullen
After black, brown boots are next in line for being the most versatile to style. This season, instead of wearing the boots with skinny jeans and a belted wool coat, opt for a pink puffer jacket and denim with frayed hemlines. These two on-trend pieces elevate your rather simple boot. As for your beige sweater, half-tuck it into your jeans for a quick fashion-girl approved style hack.
Shop similar pieces: 1. H&M mohair-blend sweater, $60; 2. Topshop puffer jacket, $110; 3. Everlane the day boot, $225; 4. 3.1 Phillip Lim bag, $725; 5. Frame le high jeans, $267 The Floral Boot
Getty/Design by Morgan McMullen
Floral boots are probably the trickiest to wear, unless you know this tip:Wear a top that mimics a color in your shoe. This makes your outfit look instantly complementary from top to bottom. The same can be said if you match your coat to your shoes too, though who really has an orange coat lying around? Go for a sweater instead and then cover up in a cream-colored coat and accessorize with gold earrings.