How To Style Knee High Boots – 15 Outfit Ideas
March 19, 2018 by Pratima Ati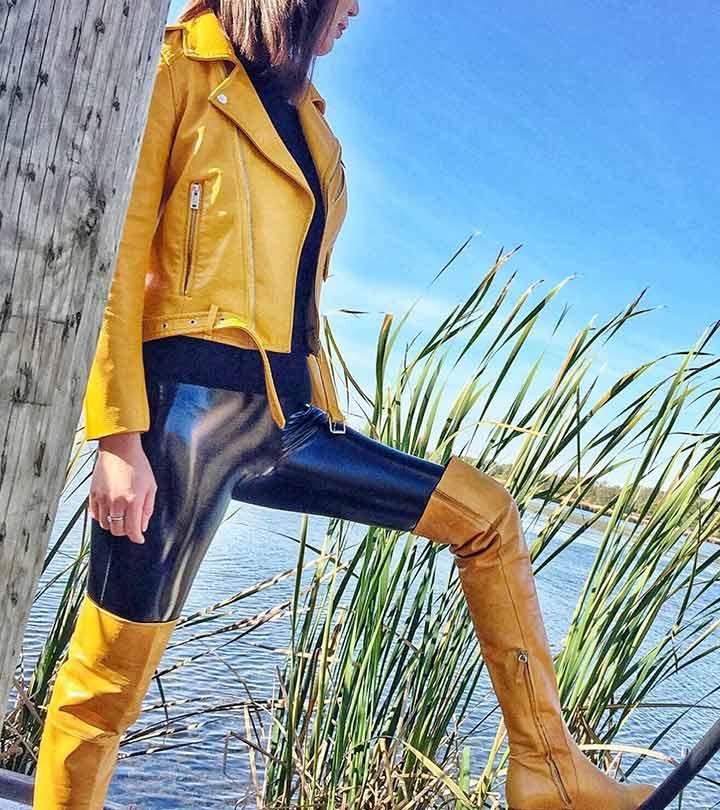 Knee high boots are probably single-handedly representing all things fashion in winter; I can't think of anything else that is good about these wet and depressing months. Anyway, these are not only just good looking but quiet comfortable too and that's why these started on the runway and pushed their boundaries to become a shoe wardrobe staple. I was sold the minute Kendall Jenner started sporting these. But, guess what? You don't need a runway to rock these in reality. Here's a lookbook to help you style knee high boots. Let's cheggit!
15 Ways To Style Knee high Boots – Outfit Ideas
1. With Faded Jeggings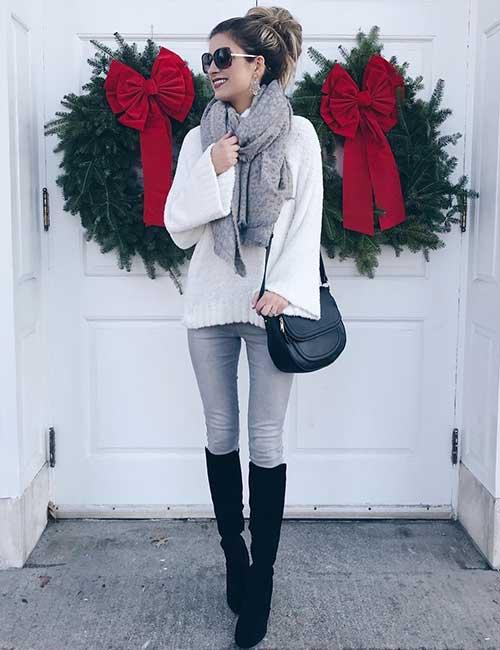 If your obsession this season is knee-high boots, then you're obsessing over all the right things. Which means that you have got to stock up your skinny jeans, jeggings, fleece leggings or whatever else suits your taste and personality.
2. With An Evening Outfit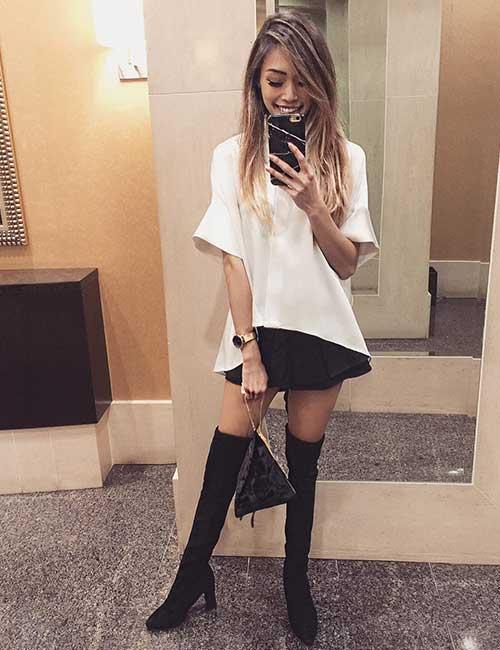 One day when you decide that the boots need to take over for the night, go with a mini skirt. They correctly space it all out to do just that.
3. With Skinny Jeans And A Crop Top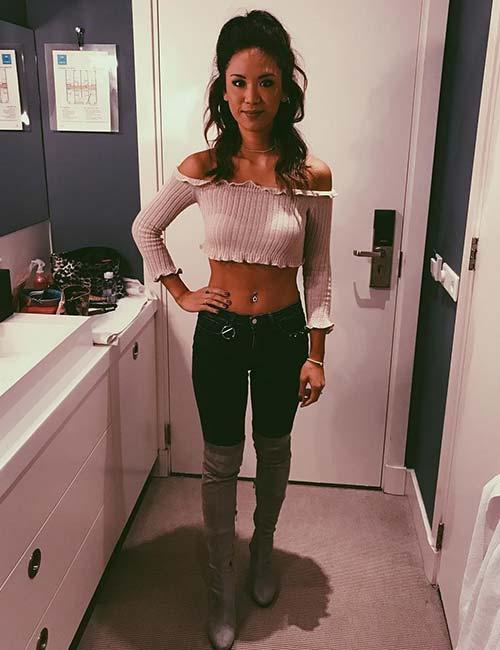 When you cannot wait until winter or even fall to bring out those new boots you got on sale, go on and wear them with a crop top or a tank top and strut around. I just hope you're not in Arizona or Texas and you can handle the heat.
4. With Black Jeans And Top – Monochrome Look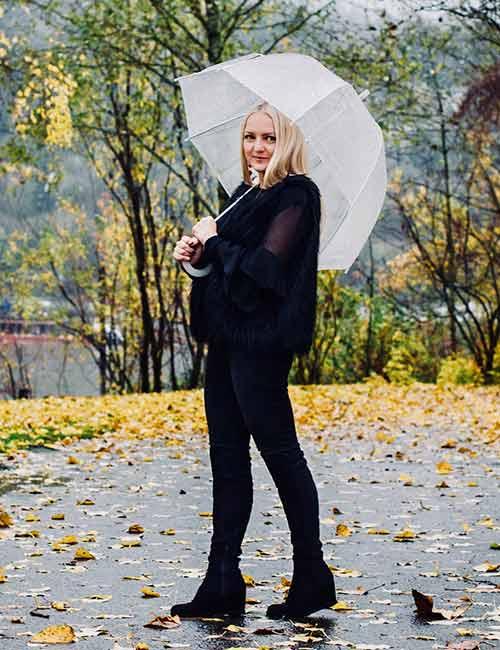 A monochrome look with black knee-high booties, black jeans, and a black satin shirt will prove to you why black is the real black (if you know what I mean)!
5. With A Sweater Dress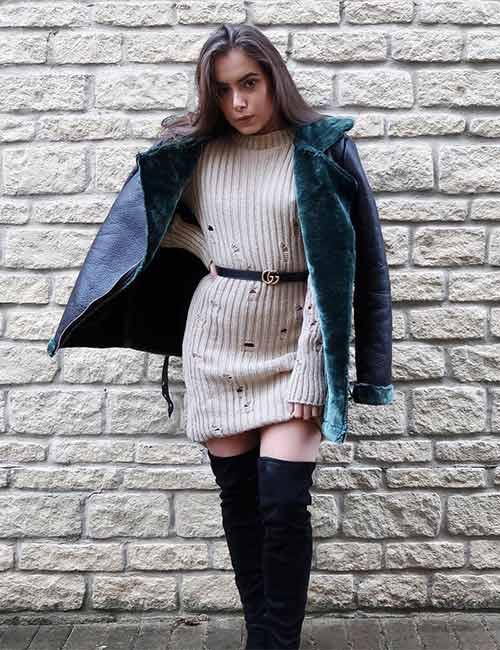 Swap the cashmere sweater for a sweater dress, and those boring winter gumboots for these booties, and see the magic unveil. Consider stockings or leggings if you are already knee deep into winter.
6. With A Checkered Shirt Dress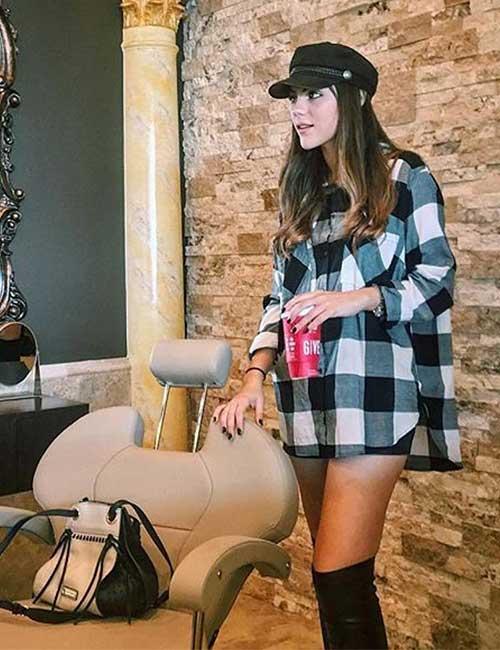 A checkered shirt dress will look incredibly chic too! Make this a signature look for this season and try all possible combinations.
7. With A One Piece Off-Shoulder Dress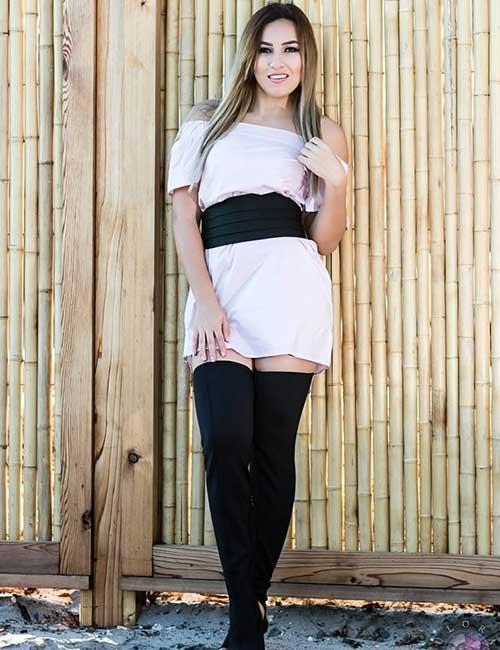 Head to a party with an off-shoulder dress and cinch the waist with a chunky belt to match the aesthetic of the boots. You need no other accessory.
8. With A Mini Skirt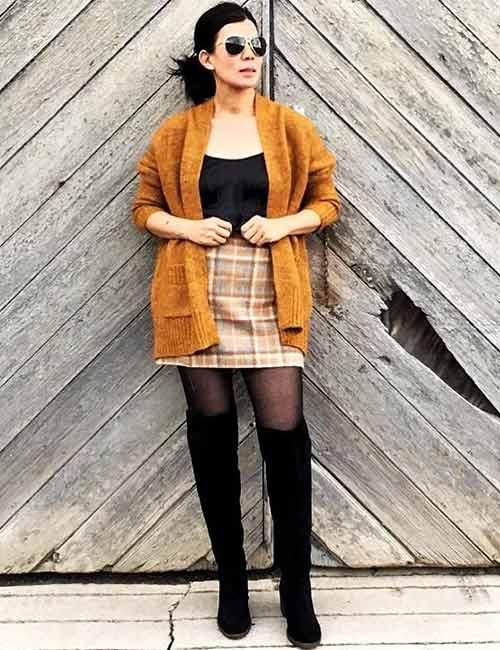 Ahhh! Love, love, love this outfit. Join the knee-high boots bandwagon this fall and make it official with a statement outfit like this.
9. With A Formal Skirt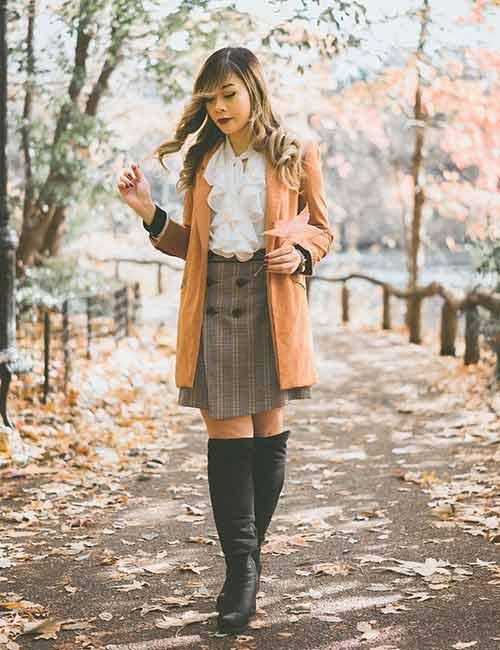 Trust us when we say that you can wear them to work, because what's there to shy away from? If you are headed to a party after work, change into a funky top to go with the skirt, and you're party-ready!
10. With Denims And An Oversized Sweater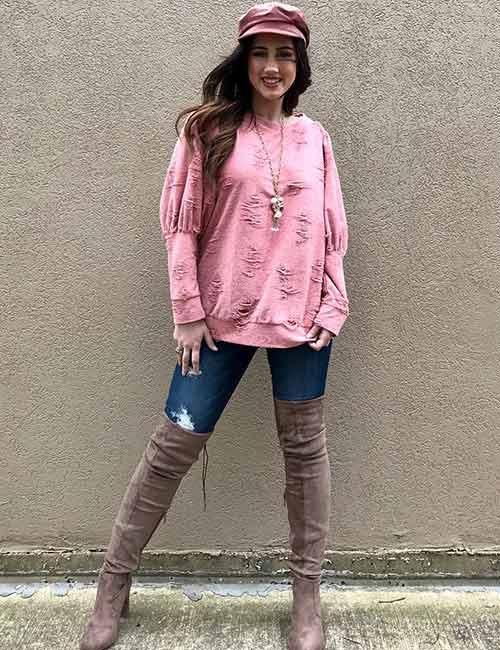 If you are an OTK boot veteran and tried standard colors, go light or different this time around. Beige, electric blue, suede, and gray are interesting options.
[ Read: How To Clean Leather Shoes And Boots At Home ]
11. With A Long Checkered Jacket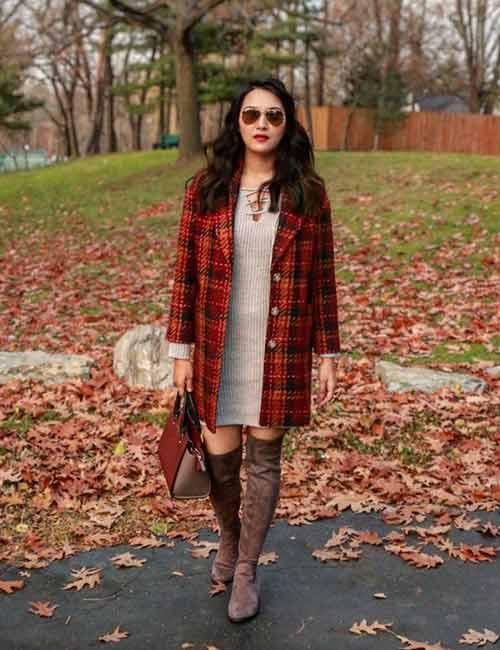 Get some fall action going with a T-shirt dress, plaid coat, light-colored boots, and beachy waves. Style on point!
12. Go Couture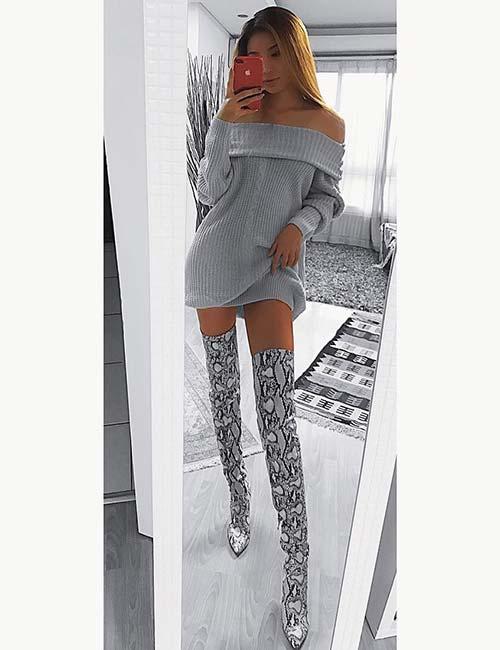 Shout out to the couture chicks out there. Girls, you need to really take the lead with designer knee-high boots, because I'm assuming you have tried everything else and cannot wait to take on more of these.
13. With Distressed Denim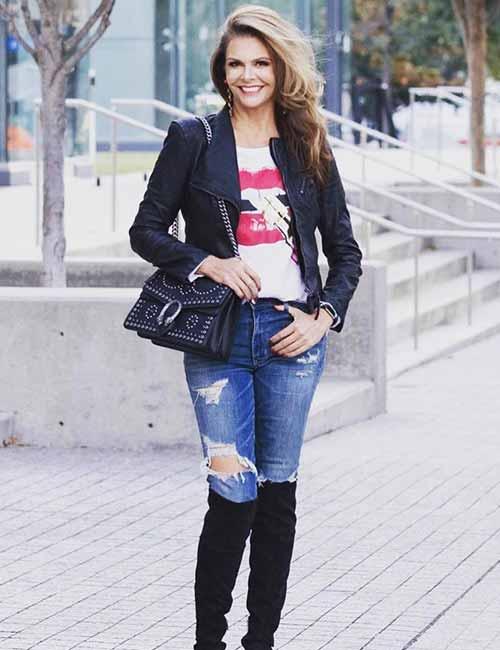 If you are not impressed with the idea of distressed denim yet – pair them up with your knee-high boots – they add a little zing to the outfit without being too shoddy.
14. Suede Knee-high Boots With A Mini Skirt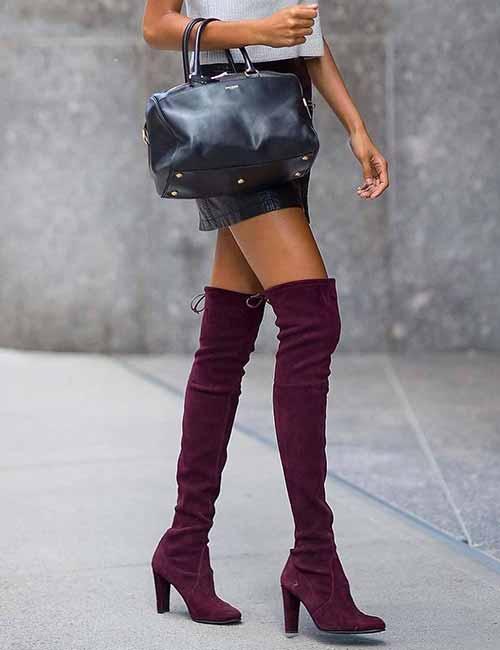 There's something magical about wine red (I mean red wine, too) and that's why it remains one of the the most interesting and classiest colors for boots. You see a woman wearing these suede boots, you simply know she knows her fashion game.
15. With An A-Line Skirt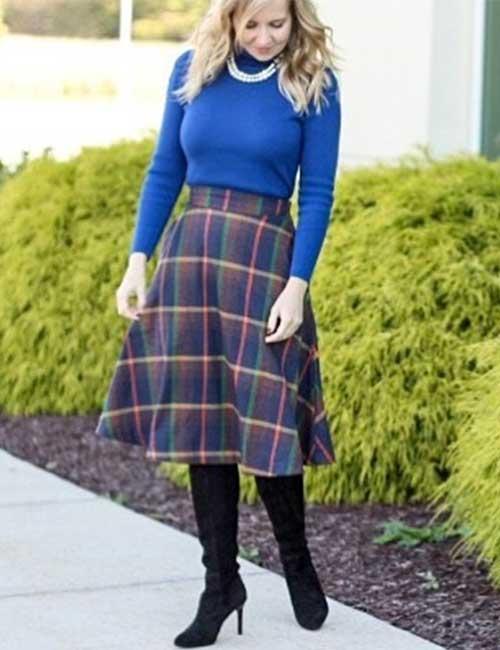 If you are one leg into Christmas and see new drinks being stacked up at Starbucks, but want to hold on to fall dearly, continue to do so in a checkered skirt and the knee-high boots.