All In The Fam: 25 Ways To Gucci
---
In partnership with Gucci
By Vogue
---
Thursday 19 April 2018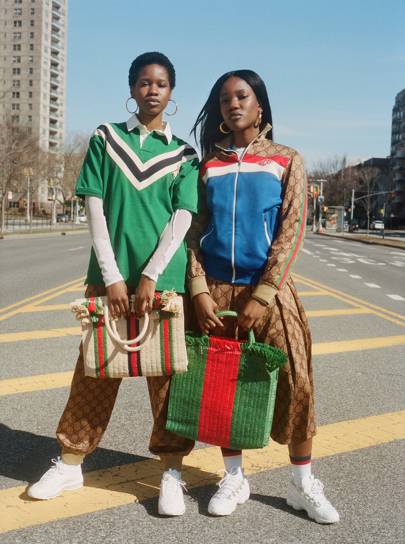 Who says you can't wear spanking-white Gucci sneakers with a spangled evening gown? Why can't a dress that doubles as lacy lingerie find happiness under the cosiest, floppiest cardigan? There's a new wind blowing this season, where it's just fine to wear what you care to wear with glorious, reckless abandon. And, of course, there's also a whole new tribe of rugged individualists who reflect this blissfully liberated fashion universe.

But they're not just united by the brilliant freedom reflected in their inspirational personal styles: they are bound by love, creativity and – perhaps most poignantly – blood. This tribe is made up of real-life family members who seek inspiration from each other and give it back just as freely, whether they're borrowing ideas or items from each other's closets, making brilliant collages of lives and outfits and modern sensibilities. Just like all the truest soulmates should.
Take Camilla Deterre, for example. "I'm pretty mellow and classic," says the model and interior designer. Her gorgeous mother, Ana Opitz, no doubt influenced her mood-driven approach to clothing: "It has to feel right when I wear it. For me, when it comes to fashion, form follows function." Or what about 19-year-old student Zora Casebere and her mother, artist Lorna Simpson? "She takes my clothes all the time," Lorna chuckles. "She has a nose for what's new. I go to my closet to find something that I plan to wear to an event and it's gone!"
Not that she's complaining – and neither are any of the other 13 free-spirited fashion rogues who make up the clans Vogue chronicles here. Wearing a mash-up of their current Gucci favourites, this motley crew of familial pairings – mothers and daughters; sisters and brothers; babies and mothers; twin sisters; even a few sartorially inclined pups – is sure to invite a bit of reflection. After all, everyone has at least one or two of their own nearest and dearest who sparks the joy that comes from really "mixing stuff up". In partnership with GucciVisit Gucci
Brooklyn-born Kemi Lukanni, a college student and part-time model, admits to a weakness for sexy tops; her sister Shae is a singer with a soft spot for designer labels: "I do like logos!" Like all siblings, they squabbled when they were kids, but those fractious days are long in the past. "As we got older," Shae says, "we connected spiritually with each other."
Shae wears jogging pants, straw tote. Kemi wears jacket, skirt, straw tote. All Gucci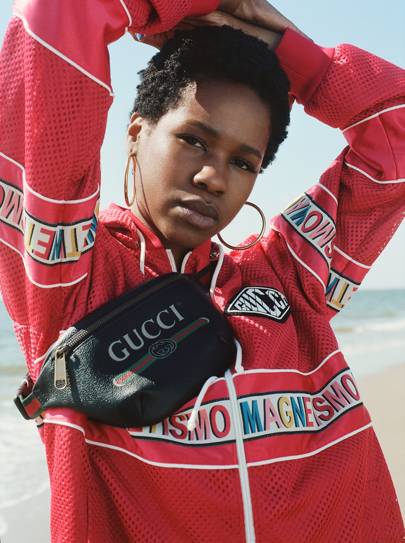 Kemi admits she never met a hoodie she didn't like, and if it sports a cool insignia, well, so much the better. And – bonus points – her Gucci bag is just small enough to stash in the locker room. "I like to do extreme sports," she confesses. "Snorkelling, zipline, even paintballing!"
Kemi wears jacket, bum bag. Both Gucci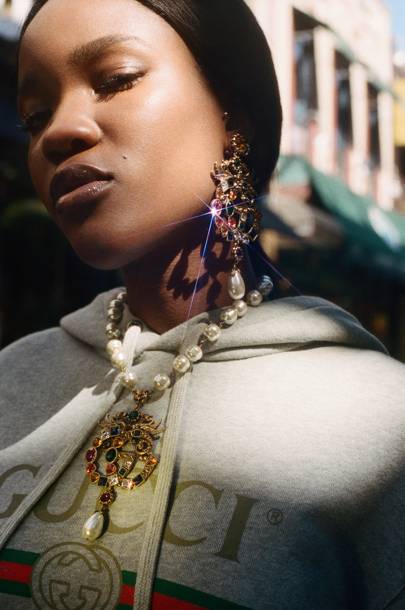 Who says dangling earrings and sparkling pendants can't find a happy home on a sweatshirt? For Shae – an aspiring artist and entertainer who says "I like to do casual" – what could be more entertaining, and more casual, than a hoodie hosting a clutch of gleaming jewels?
Shae wears sweatshirt, crystal earrings, necklace. All Gucci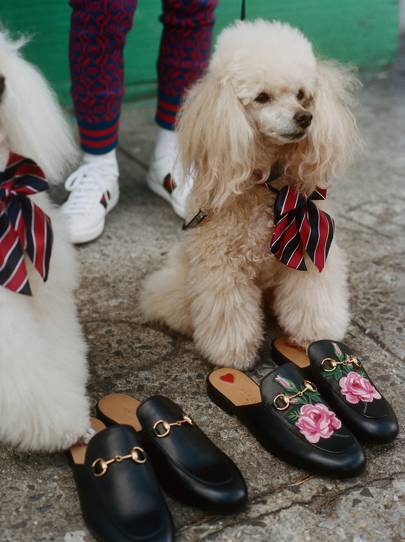 Man's best friends are famous for delivering their masters' slippers via their adorably slobbering mouths, but these stylish pooches know that biting a rose-embellished Gucci slipper will result in no doggie treats from the stylish mistress of the house.
Slippers, embroidered slippers. Both Gucci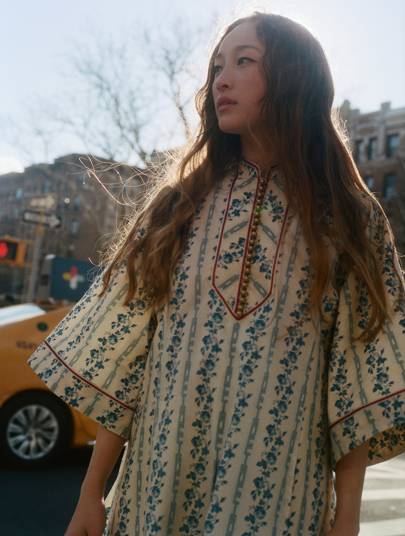 "Art can change people's lives," declares 20-year-old NYU student Havana Liu. As a dancer, she loves clothes that let her "shift and move and groove." She says that she especially likes to move and groove to DJ Khaled's "I'm the One": "When I met her in the club I asked her who she felt/ Then she went and put that booty on that Gucci belt."
Havana wears kaftan dress, Gucci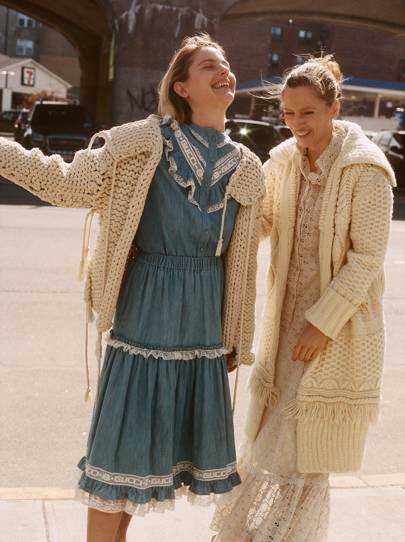 "I'm pretty mellow and classic," says model and interior designer Camilla Deterre, though she also has a penchant for clothing with "a handmade organic feeling", like the neo-hippy frock she shows off here. Her gorgeous mother, Ana Opitz, agrees: "It has to feel right when I wear it. For me, when it comes to fashion, form follows function."
Ana wears macramé shirt, skirt. Camilla wears denim ruffle shirt, skirt. All Gucci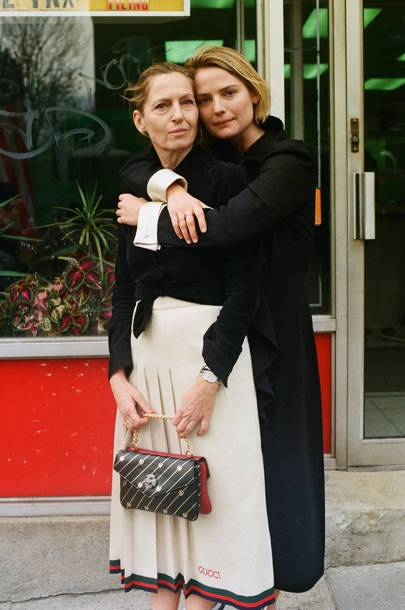 "My style of dressing is about the mood of the day," says Ana, and the mood on this day is clearly low-key elegance. For her daughter Camilla, whatever she wears needs to be bike-friendly: "I'm usually out exploring, wandering, riding to places like Staten Island – I get so excited when I find an interesting building."
Ana wears pleated linen skirt, shoulder bag. All Gucci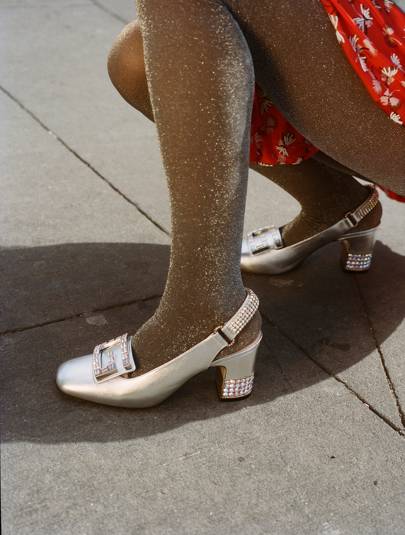 The coolest kind of metal detector: a shoe that glows in the moonlight and gleams in the sunshine. Zora Casebere, a 19-year-old Columbia University student, rocks it here with shimmery hosiery, but it would be just as joyous peeking out from a pair of jeans.
Zora wears crystal slingbacks, Gucci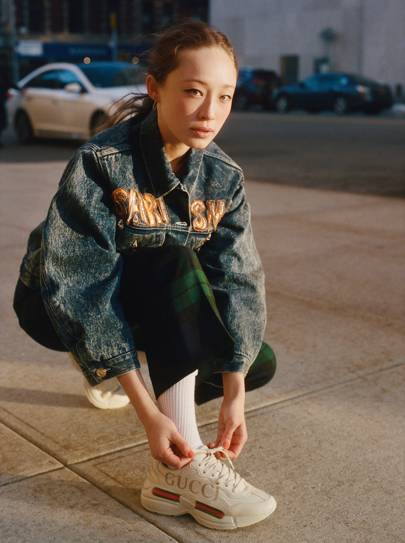 "I wear a lot of monochromatic things – I get stressed out when I wear more than two colours," says Havana. But of course that doesn't mean her classic denim jacket can't be embellished with a delicious smattering of gold, or that her go-to sneakers can't bear the subtlest red and green stripe.
Havana wears denim jacket, shoes. Both Gucci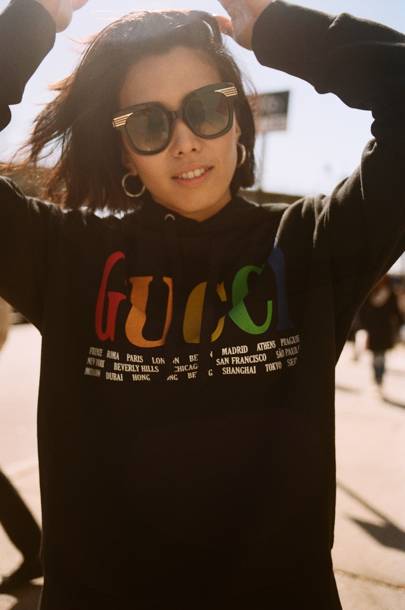 "I do enjoy fashion," says photographer Kathy Lo, explaining that being immersed in the world behind the camera gives her a different perspective. Like so many mothers, her days are so hectic she relies on a hoodie, but she has a soft spot for versions that are cheerful and oversized: "I'm a very optimistic person."
Kathy wears hoodie. Square-frame sunglasses. Both Gucci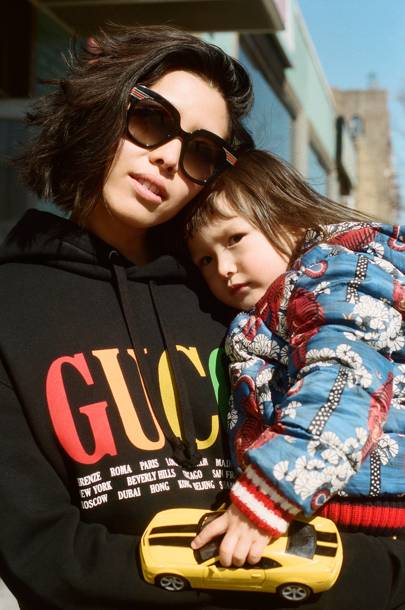 Just because you are only two years old doesn't mean you can't have your own sense of style: Kathy's son, Sage, insists on picking out his own socks. (His favourites feature pink bananas.) And he also steals her beanies.
Kathy wears hoodie, square-frame sunglasses. Sage wears jacket. All Gucci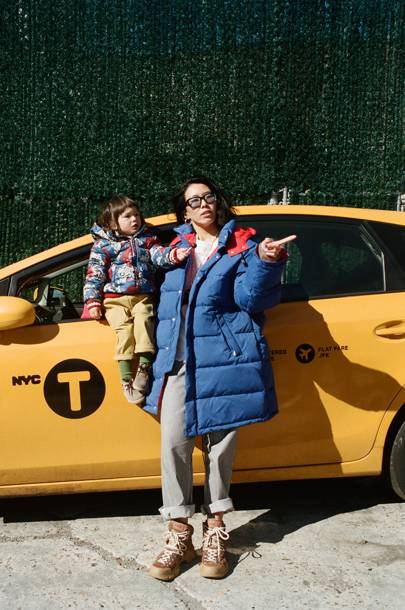 "I love a puffy jacket," Kathy says, and she admits that she is enamoured of this big blue Gucci baby: "It's almost to my knees!" Sage's version is printed rather than a single hue, but in lots of other stylish aspects, his mother says, "He's a mini version of me."
Kathy wears boots, Gucci.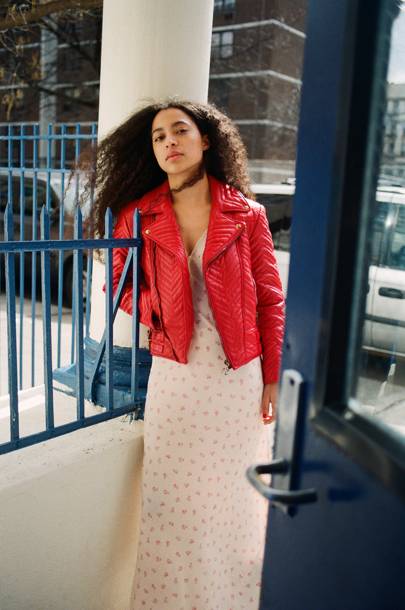 "I like mixing and matching things you might not expect to be worn together," says Zora. "But I also love a dress – it's already an outfit," she adds. Here, she proves just how happy a moto can be cohabiting with a delicate flowered frock.
Zora wears leather jacket, Gucci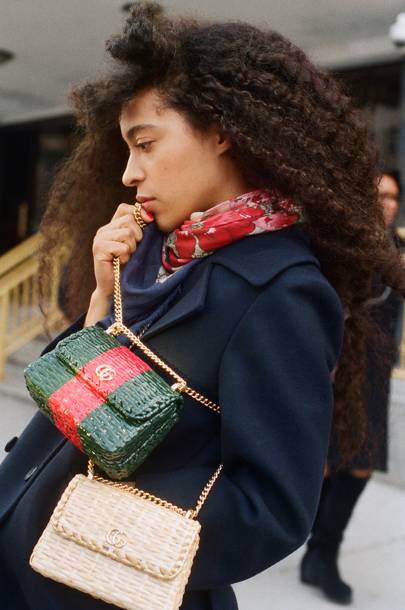 "I love sweats; I love florals; I love stripes – and yes, I am a shopper," says Zora. Along with her academic pursuits, there is something else she loves: Zora is a serious actor, with her first feature, Ladyworld, set to be released soon.
Zora wears silk scarf, mini shoulder bag, green and red mini shoulder bag. All Gucci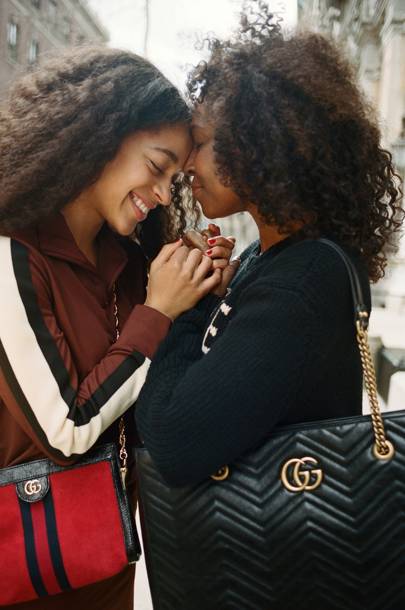 Zora and her mother, artist Lorna Simpson, share more than a passion for creative pursuits: "She takes my clothes all the time," Lorna laughs. "She has a nose for what's new. I go to my closet to find something that I plan to wear to an event and it's gone!"
Shoulder bag, tote bag. Both Gucci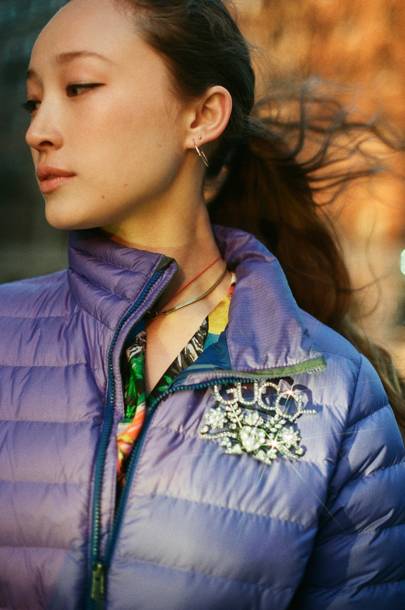 Havana is spending the scholastic year abroad in Berlin, where she is pursuing her passion for the arts, social justice and wellness – and those German winters can get pretty cold. Luckily, this misty-blue quilted jacket can keep this artist-activist warm: "I get depressed when I wear all black," she says with a shrug.
Crystal brooch, Gucci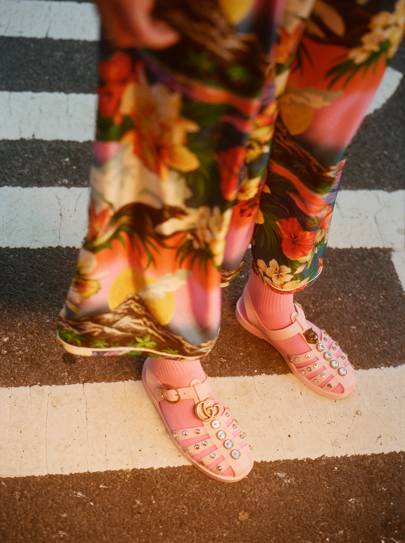 The liberation of the toes! On the first warm day, these charmingly bejewelled strappies can gleefully hit the pavement, and if there is a chill in the air, keep a pair of pink socks in your Gucci bag. Sandal weather, believe it or not, is right around the corner.
Havana wears pyjama trousers. Sandals. Both Gucci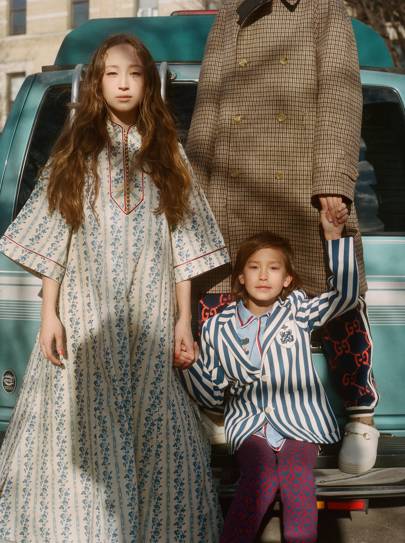 Havana's brothers may be young, but they have their own distinct style ideas: Dublin, 9, says he doesn't like anything too vibrant; Cairo 13, admits that, like a lot of guys his age, he gravitates towards black. Both boys attend St Ann's School in Brooklyn, and both proudly demonstrated for gun control earlier this year.
Havana wears kaftan dress. Dublin wears kids' apparel. All Gucci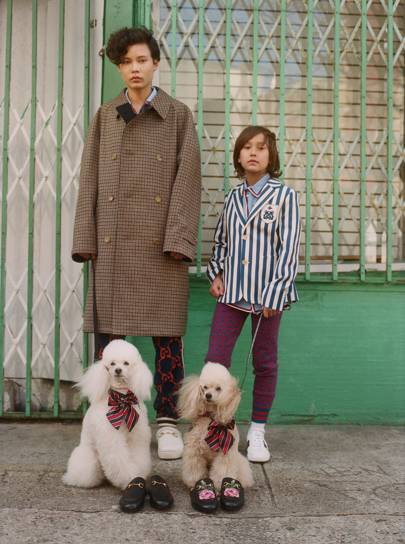 "No superhero stuff for me!" declares Dublin. "I like a bow tie and a nice shirt." Big brother Cairo says "I like clothes, too, and I like style", but he admits that sometimes sweatpants and athletic stuff hold sway on a busy morning.
Slippers, embroidered slippers, kids' apparel. All Gucci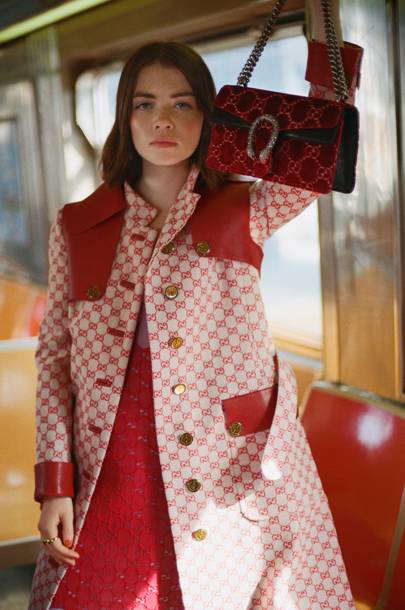 Molly Blutstein and her twin, Reese, are not identical – but it's tough for the untrained eye to tell these two apart. Molly, a student in Atlanta, describes her style as simple and structured – like the trademark logo coat and bag she sports here. Reese, the blogger behind Double3xposure, says she falls for outfits that are maybe "a bit more colourful."
Molly wears trench coat, velvet handbag. Both Gucci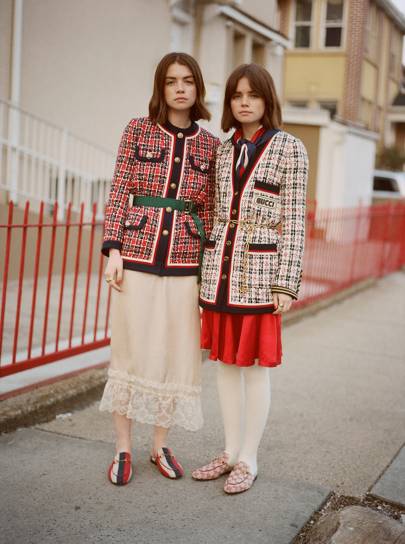 Hardly Tweedledum and Tweedledee, the Blutsteins wear these nubby classics their own way. Reese claims Molly's looks tend to be a bit sexier, then adds, "We are always defining each other's styles."
Molly wears tweed jacket, slippers. Reese wears tweed jacket, slippers. All Gucci