Recommended Reading: Frye: The Boots That Made History
A new coffee-table tome dedicated a favorite footwear brand.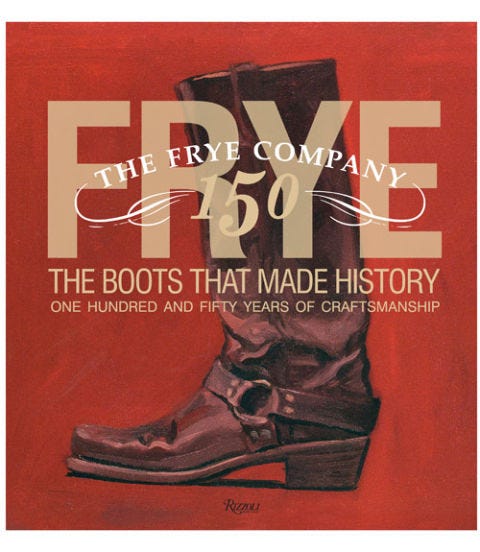 Nearly everyone on our editorial staff boasts a pair of Frye boots (Melissa Button, here!), so this 150-year retrospective, Frye: The Boots That Made History ($75, Rizzoli) authored by Marc Kristal, deserves an automatic spot on our coffee tables. Highlights include contributions by musicians James Taylor and Brad Paisley, portraits of John Lennon and John Mellencamp sporting their pairs, and vintage nostalgia-inducing advertisements, like the ones below. (This rich history and imagery make up for the—as I see it—unnecessary full-page spreads of models, which make up much of the end of the book.) As Taylor says, Frye boots are, "Unpolished, unadorned, elemental, simple, durable, comfortable, and American to the roots." Just our style!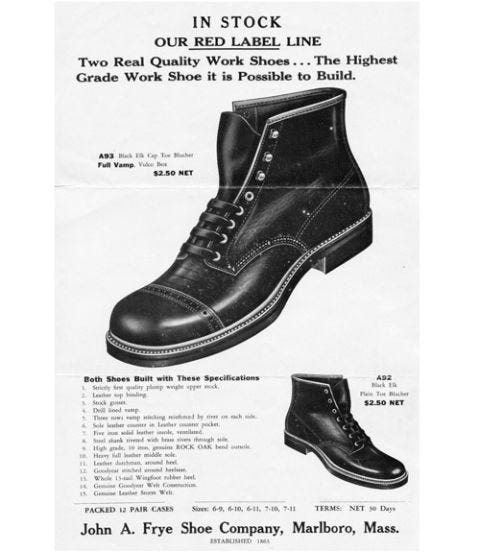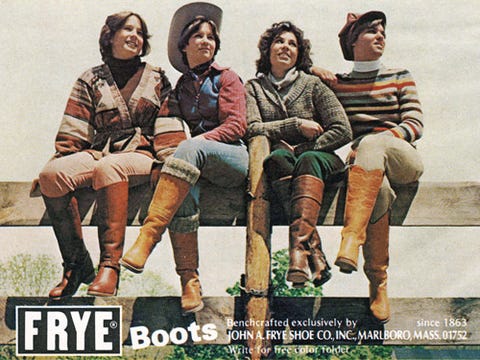 Frye Boots, SoHo
Inside The Frye Co.'s new flagship, reclaimed red barn siding, cast iron columns and stacked leather tables reference a time and culture that revered quality craftsmanship.

The holistic design of The Frye Co.'s new 6000-square-foot New York flagship began with the perfect site selection. SoHo's cobblestone streets and cast iron architecture create an ideal environment to showcase 150 years of bench-crafted leather goods.
The landmark façade on Spring Street, in the heart of the old warehouse district cum retail mecca, begins an immediate narrative with the customer, articulating the attributes of Frye's quality craftsmanship.
Frye uses many of the handcrafting tools of its trade – such as hammers, chisels and anvils – to communicate its brand messages. A leather strip stretched between two machine vices creates an elevated presentation shelf to highlight a pair of leather boots. Wooden cable spools, fans and aging microscopes take customers back to a time when quality bench-crafting was a revered art.
Period cast iron columns on the building's façade mingle with a more contemporary cage-like display fixture in the window. Made with perforated metal and a raw metal tubing frame that doesn't try to hide its weld marks, the window fixture presents products on the wooden shelves and platforms of a workshop environment.
A poured-concrete floor at the front creates a 7-foot transition zone from the street into the store. The floor then changes to reclaimed oak, with a strategically positioned nesting table welcoming customers. The display, made of wood, metal and stacked leather, helps project the idea of morphing raw materials and workmanship into a finished quality product.
A ceiling treatment features a grouping of hanging leather strips, each weighted at the bottom with rings reminiscent of Frye's harness bootstrap rings. Lighting is functional, with hanging pendant light fixtures and wall-mounted industrial bench lights with black enamel shades focused on the product.
Accent lighting creates drama throughout the space. Miniature LED track accents focus on the leather straps and brass rings of the ring chandelier, while warm-white linear LED striplights help bring out the character of the brick surfaces. Dimmable LED striplights are used to create shifting moods and scenes within the space.
A healthy mix of product, vintage props, antique mirrors and natural surface treatments rings the perimeter of the store. Wall-mounted drawers with leather tops, modeled after antique storage systems or tool boxes, serve as merchandise presentation shelves.
Cage fixtures, similar to the window unit, are mounted on perimeter tracks for mobility and flexibility.
A heritage wall full of vintage photographs and early purchase orders pays tribute to the original John A. Frye Shoe Co. headquarters in Marlboro, Mass., built in 1863. There are images of the company's first skilled craftsmen sitting at 19th Century work benches.
At the rear of the space, two distinct room settings are defined by large mullioned doors that take their cues from old warehouse windows. One room features raw unworked materials, including distressed wooden boxes and gray felt rolled down the wall as a contrasting surface treatment behind a presentation of distressed leather boots and shoes. The other is a high-craft room housing higher-priced goods displayed on nickel-plated machine parts and vintage post office mail boxes.
Every gesture in the store has a purpose, including the lush leather couches. While they seem merely a respite for the weary shopper, they further tease the olfactory senses with the authenticity of luxurious leather.