Outfits with Combat Boots- 22 Ideas How to Wear Combat Shoes
Outfits with Combat Boots. Looking for ideas what to wear with combat boots? Or outfits that go with combat boots? For any fashionista's wardrobe, combat boots are a must. They are rugged yet comfortable to wear and they can be worn with different outfit.
They are especially famous among tomboys or girls because of their edgy and sporty vibes. But many girls also want a more feminine look with combat boots and it is definitely achievable. Lately, these shoes have been getting much attention as even the most famous designers like Valentino launched these shoes with some stylish twists like the one you see below.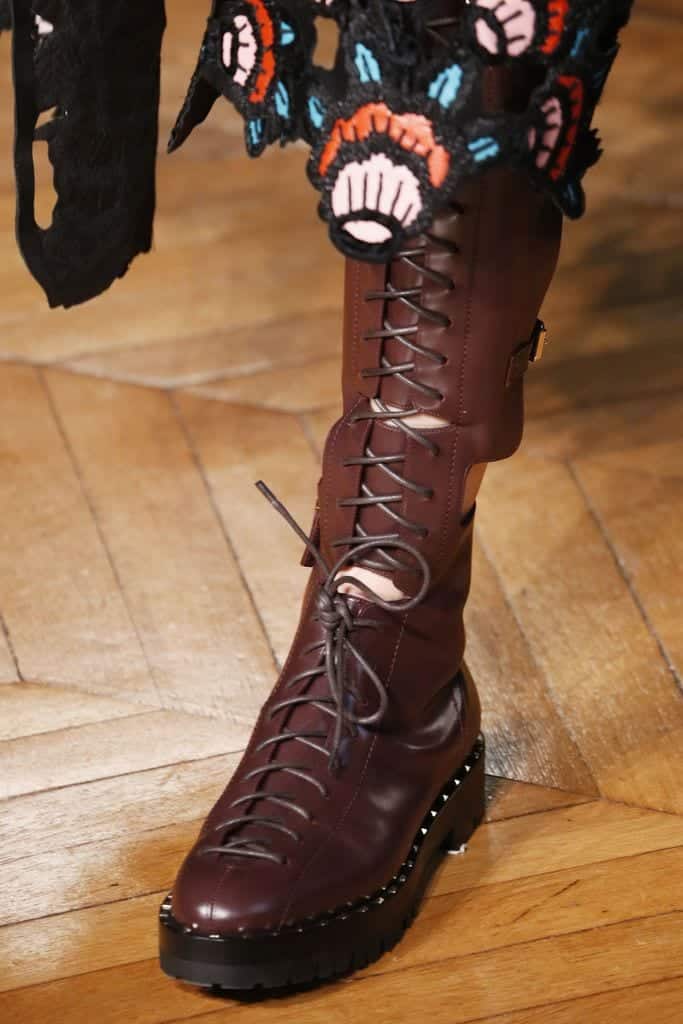 We keep on bringing some great ideas as what dress you should wear with the different type of shoes. In the last post, we talked about amazing outfits combinations with uggs and outfits to wear with Timberland boots. Today we focus on Combats boots, which offer great versatility. Lace up combat boots is the perfect pair for anyone looking for a girly and feminine but unique look. Here are few ideas how you could wear combat boots with different outfits.
What to Wear with Combat Boots
↓ 22- Combat Boots with Dress Shirt
A white collared polka dot shirt is the perfect addition to your wardrobe. Match it up with a beautiful pleated leather black skirt and a chain bag in blue to add a pop of color.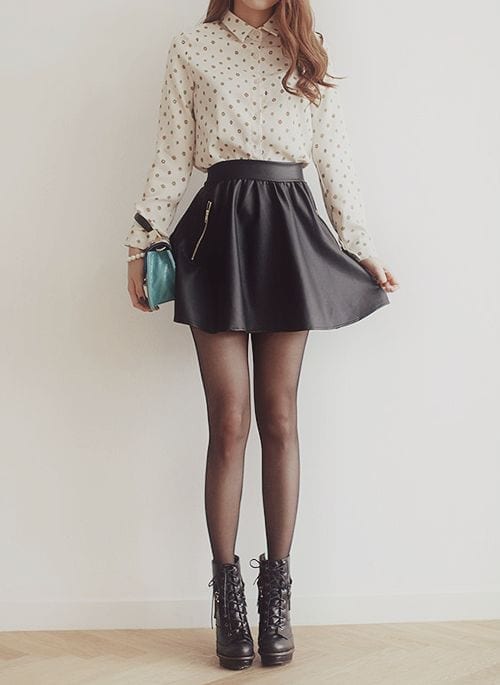 ↓ 21 – How to Wear Combat Boots to Work
Since combat boots make a strong impression, it is essential to wear a shirt that goes well with the outfit. Wear a tucked in plaid shirt with jeans. This will create a professional yet a country girl look.To keep the profile a little light let your hair loose but for a strictly professional image go for a bun or a high ponytail with sunglasses. A wrist watch will look really nice with the outfit.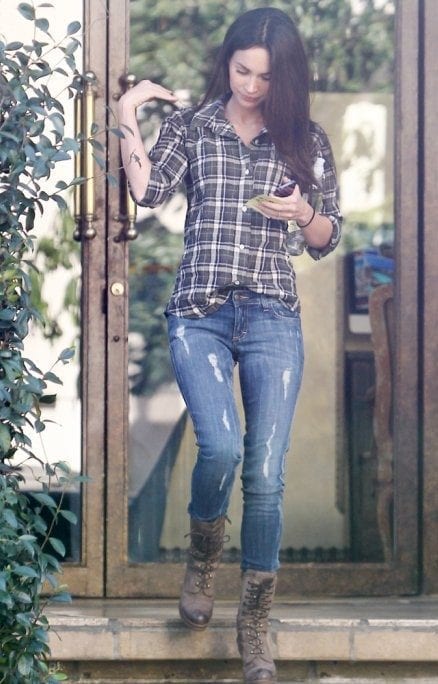 ↓ 20 – Crop top and Denim Shorts with Combat Boots.
Just want to hang out after school or with your friends? Try wearing a crop top in black and denim shorts with black ankle high combat boots for a classy look. Tie up a plaid flannel shirt around your waist. You can paint your lips a bold red or do smokey eye makeup, either one will look fab.
↓ 19 –Spring/Fall Outfit:
Spring and Autumn require warmer clothes so simply wear a grey shirt and skinny jeans with a plum scarf as it is a simple yet an enchanting look. A fitted shirt or a tank top are perfect for combat boots. They create a very casual look that is suitable for any occasion.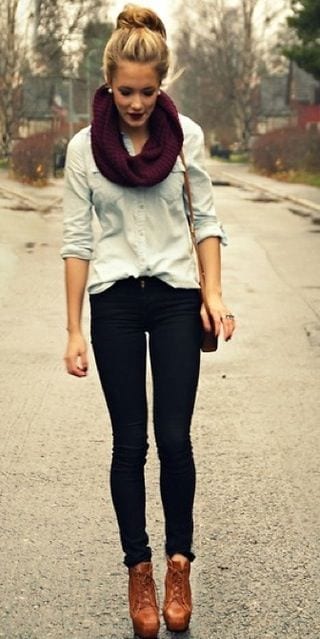 Combat boots are extremely versatile. They are very popular amongst young girls and celebrities too. Colorful combat boots are also a great way to bring color to your wardrobe. Other than that, you can wear colorful cardigans and scarves with your boots to add a touch of funkyness. Other shirts like lace blazers are also suitable for combat boots.
↓ 18 – Winter Wear
Another fascinating look for the winter season is this poncho styled outfit. Blue is adding the glam needed on the whole black look. Head to toe in black and as a wrap take out your poncho. Keep your hair tied up wit warm clothes if they are long and a little eye makeup will be enchanting.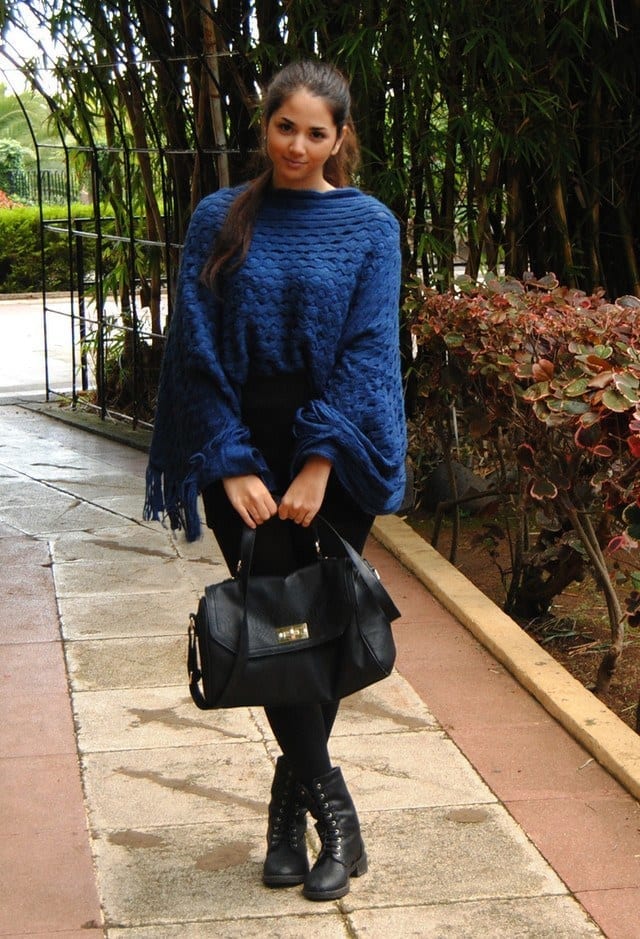 If you plan to wear simple accessories and makeup, you can for minimal makeup and it is highly recommended for daytime. Along with that, outfits of solid colors make you look bold and beautiful. Always be careful when you choose a dress for your combat boots because you need to make sure that the dress is not too boyish.Picking up the right outfit is necessary.Winter is a perfect season to wear your combat boots with different dresses since you have a lot of options to style same shoes with many other outfits.
↓ 17 – Casual look for Teens
Here's another great outfit for college. Lace up black combat boots matched with mauve jeans and a sky blue shirt.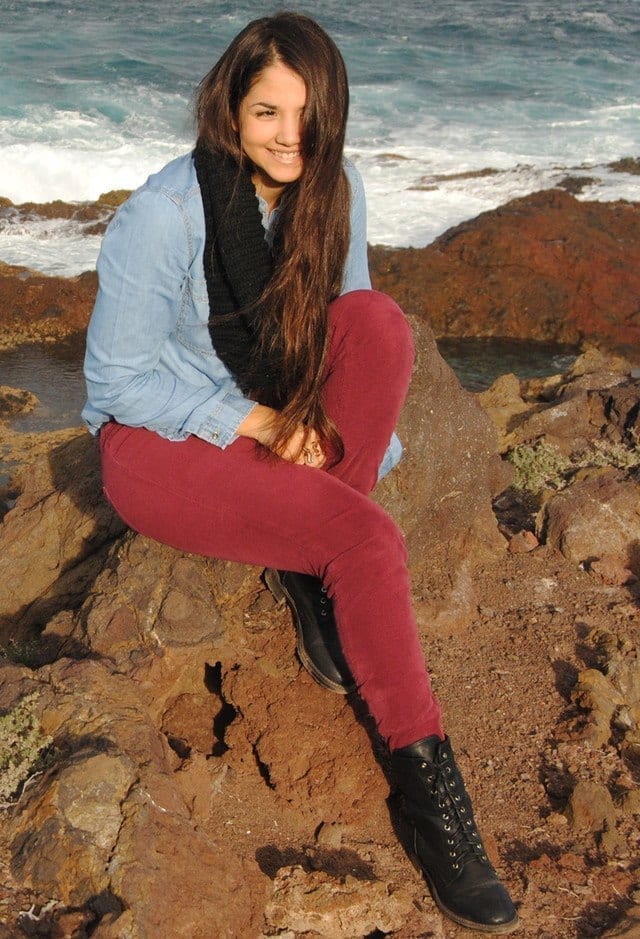 Hope you enjoyed reading the post. For more ideas you can have a look at the pictures. Do try combat boots with shorts, tights, and layered blouse. Avoid wearing boot cut jeans. I am sure these tips and ideas will help you to choose the outfits that will complement your look.
↓16 – How to Wear Same Combat Shoes with different Outfits
We often find our self trapped in a closet full of shoes ,but eventually we get down to our one favorite pair of shoes .When it comes to how often you should wear your favorite pair of footwear , it all depends on how you carry yourself and how you can match your outfit with your favourite shoes.You can also see how to wear same dress in different ways .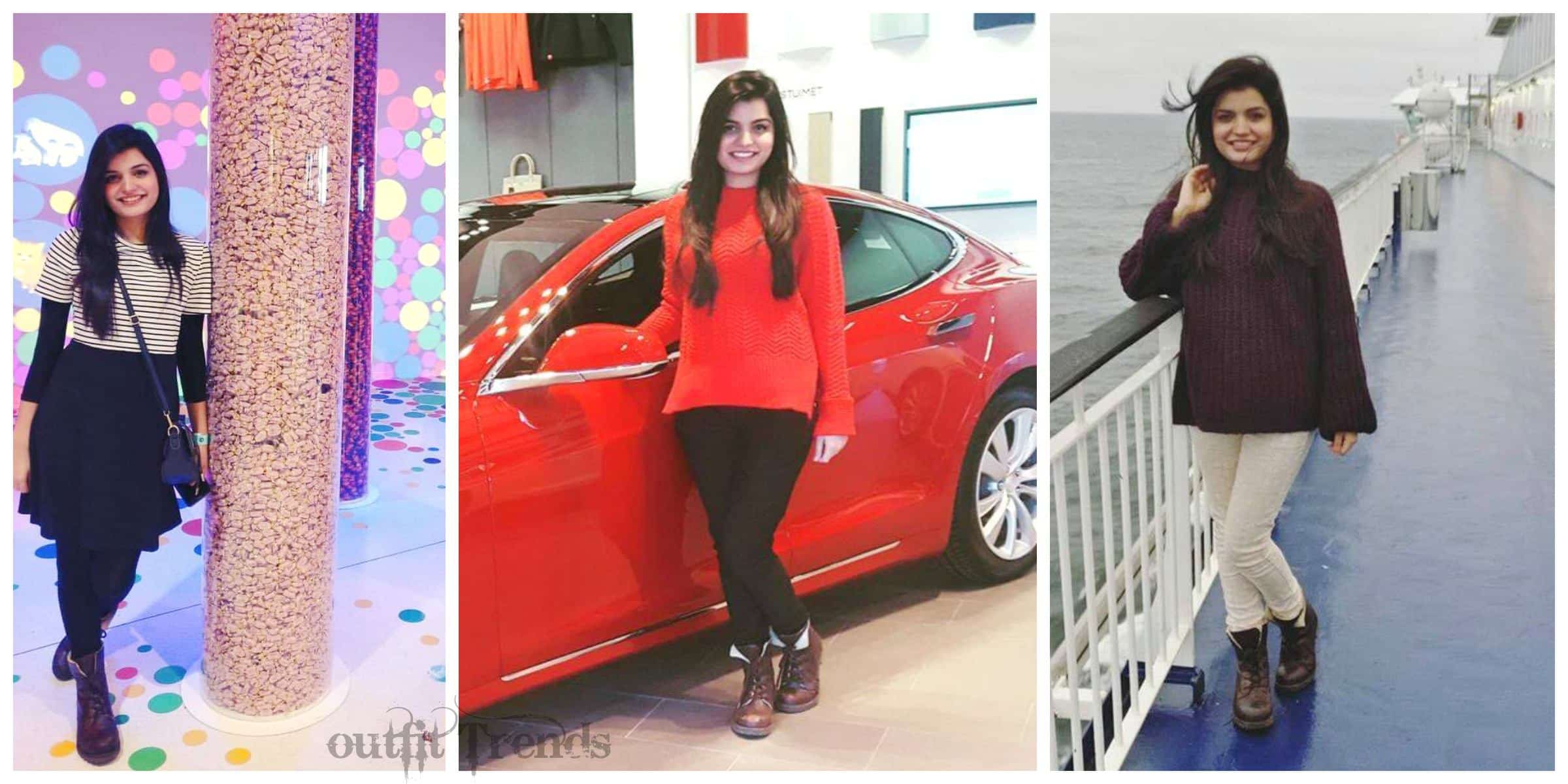 ↓ 15 – Combat Boots with Skirts for Summers
This look will definitely help you beat the summer heat.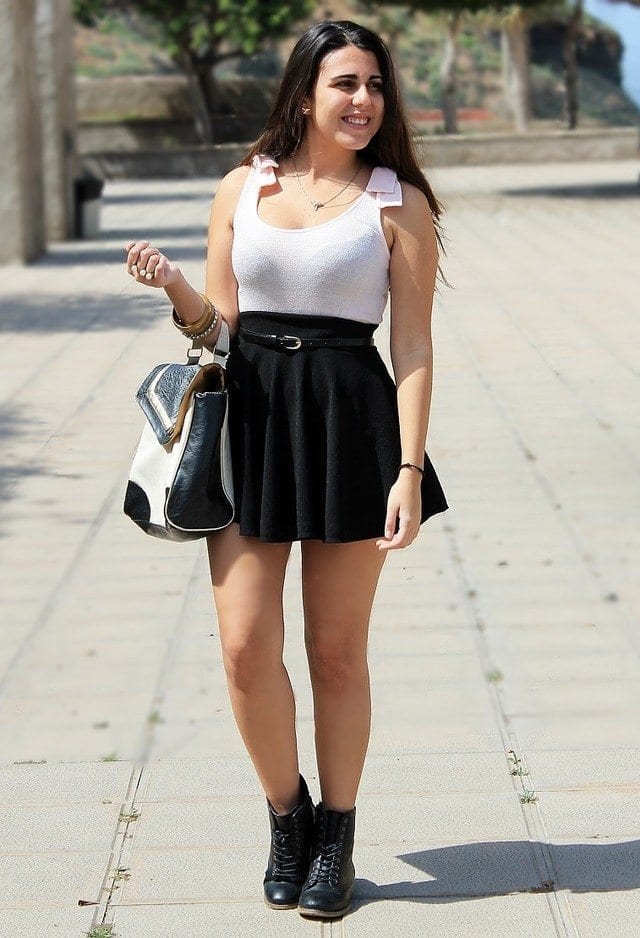 ↓ 14 – Combat Boots with Black Leather Leggings
Leather always goes really well with combat boots and is the preferred choice of goth inspired fashionistas and rockers. So attending a concert in both will do you much advantage. A sweater and a collared shirt underneath with a statement necklace in the same tone makes a great combo.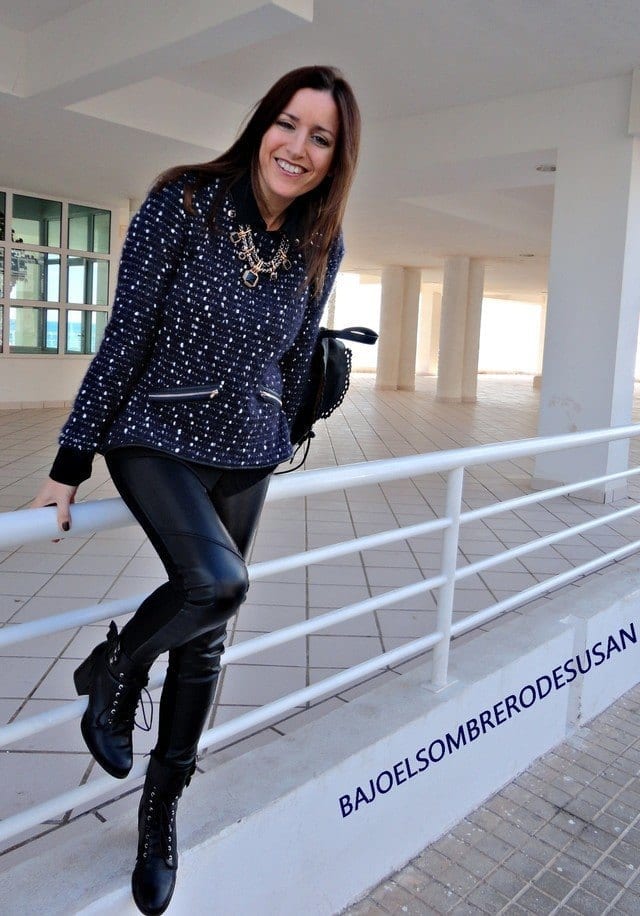 ↓ 13 – Swag Outfits with Combat Shoes
Appropriate for adventurous women who love travelling. Jazz up your outfit with leather jacket and a beanie. Belts always accentuate the details in the outfit.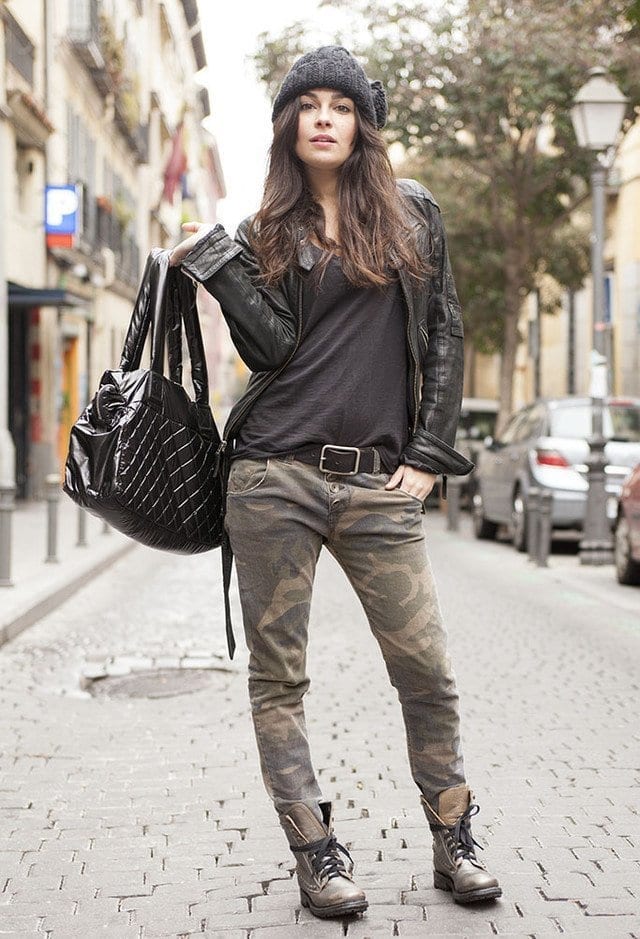 ↓ 12 – Street style
Shearling coat for the winters is the only awesome piece you need, keep the rest of the look simple yet classy. This can be achieved with plain black tights and a blue tunic. Include a gold chain for the x-factor.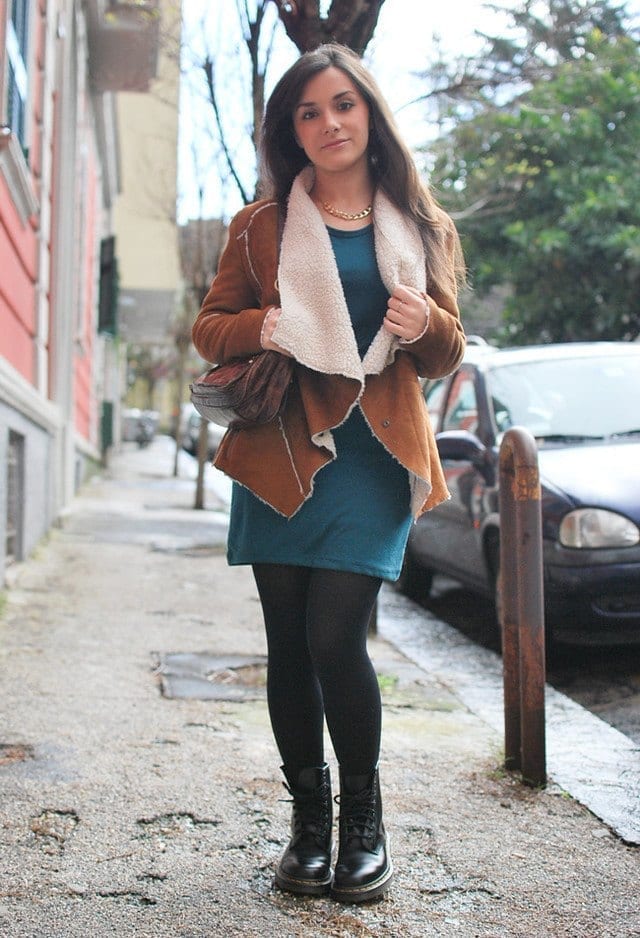 ↓ 11 – Red Colored Combat Boots
You don't always need boots in monotonous colors. Go for different shades such as red and pair them with complementing colored outfits and matching accessories.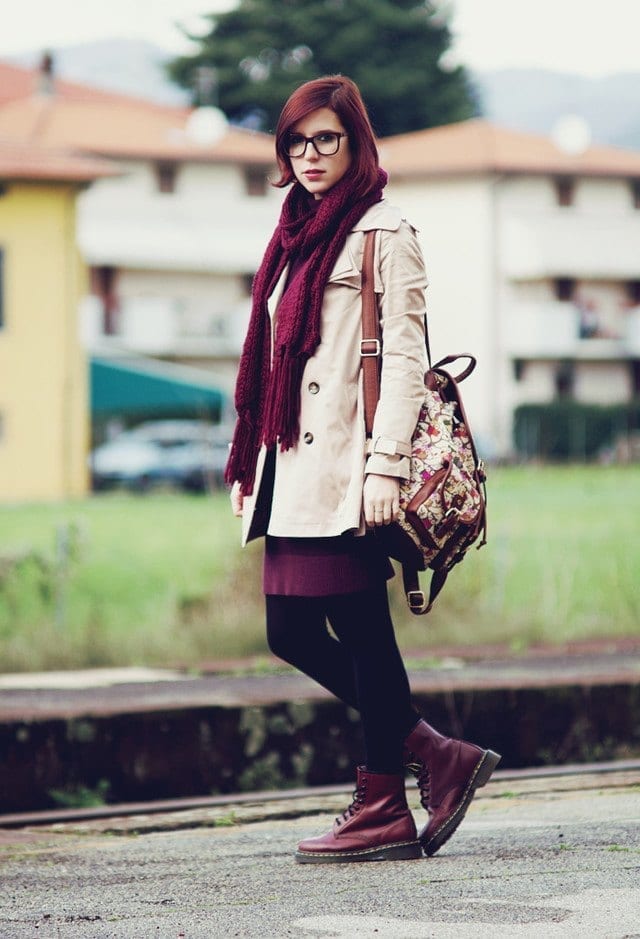 ↓ 10 – Spring Outfit
Bodycon in floral print is a nice way to show off your feminine side as well as the fun side. Add a jacket over the dress and a beanie for a chic look.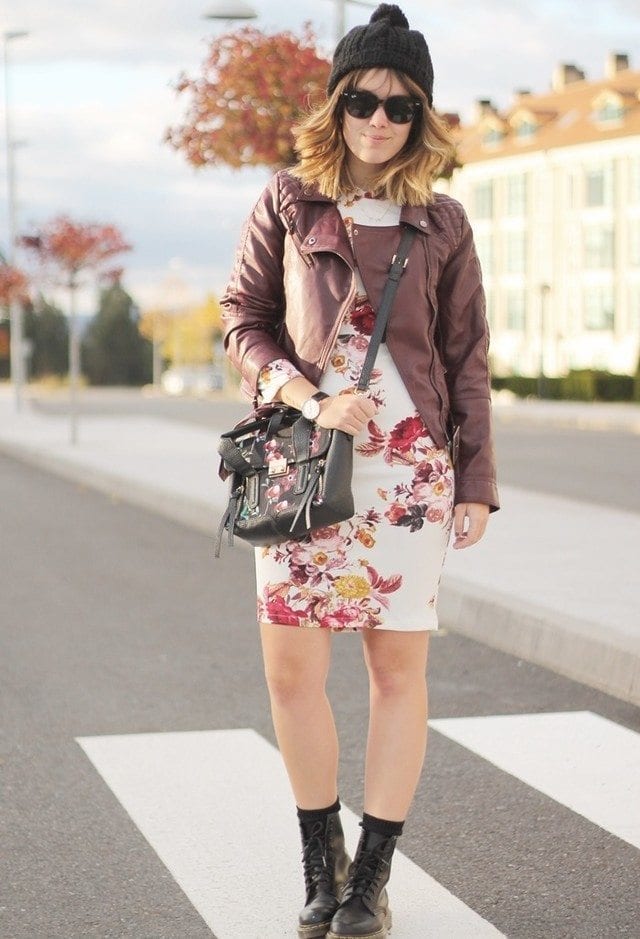 ↓ 9 – Funky Look with Combat Boots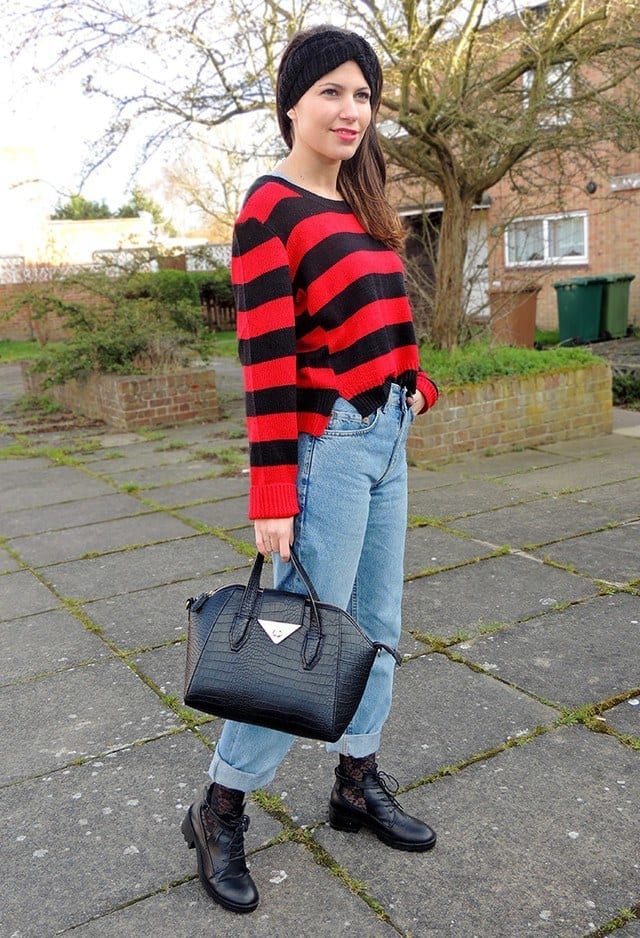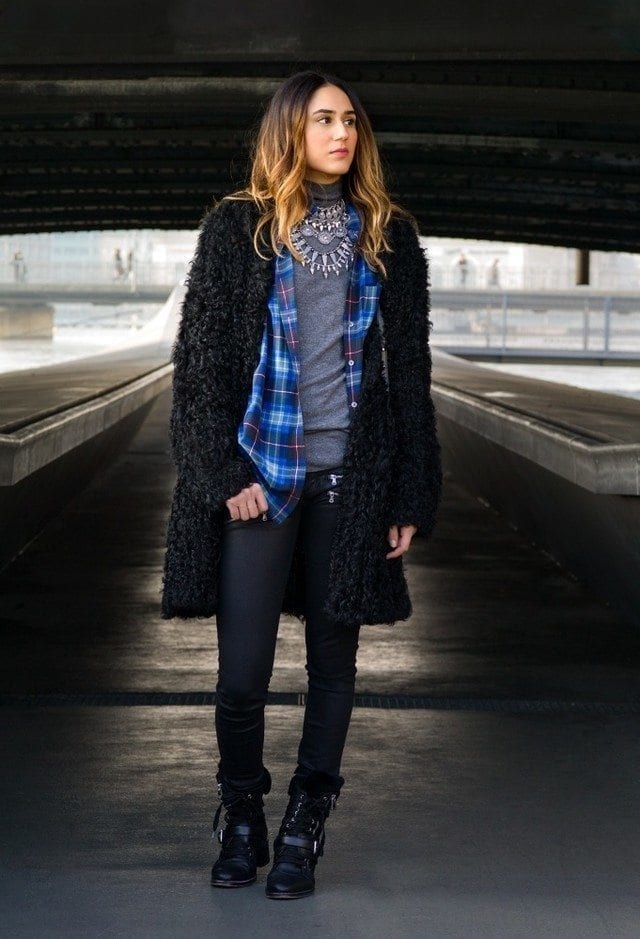 ↓ 8 – Combat Boots with Peplum Tops
You can also see 15 trendy ideas how to wear peplum in winters with different outfits.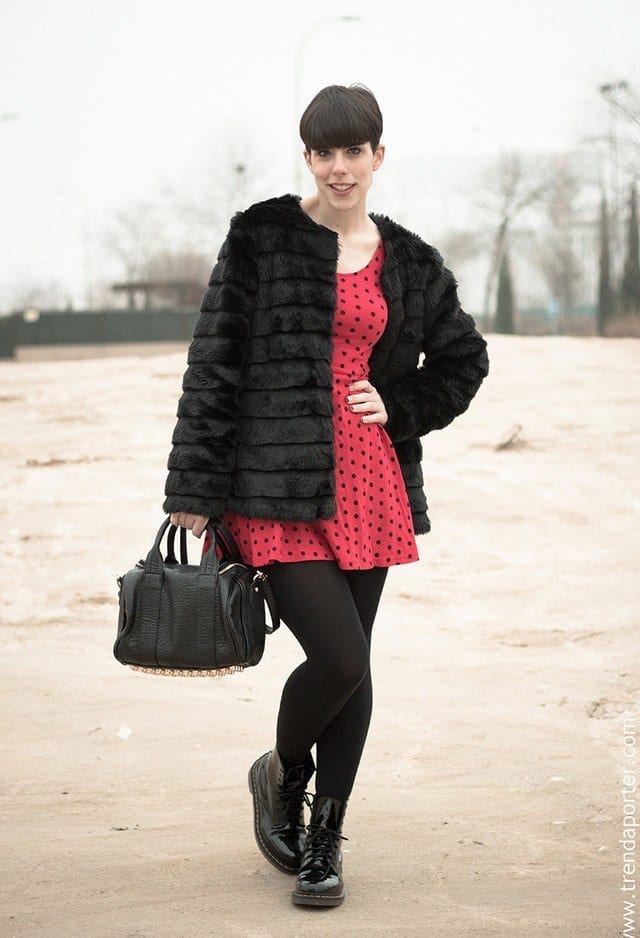 ↓ 7 – Elegant Look for School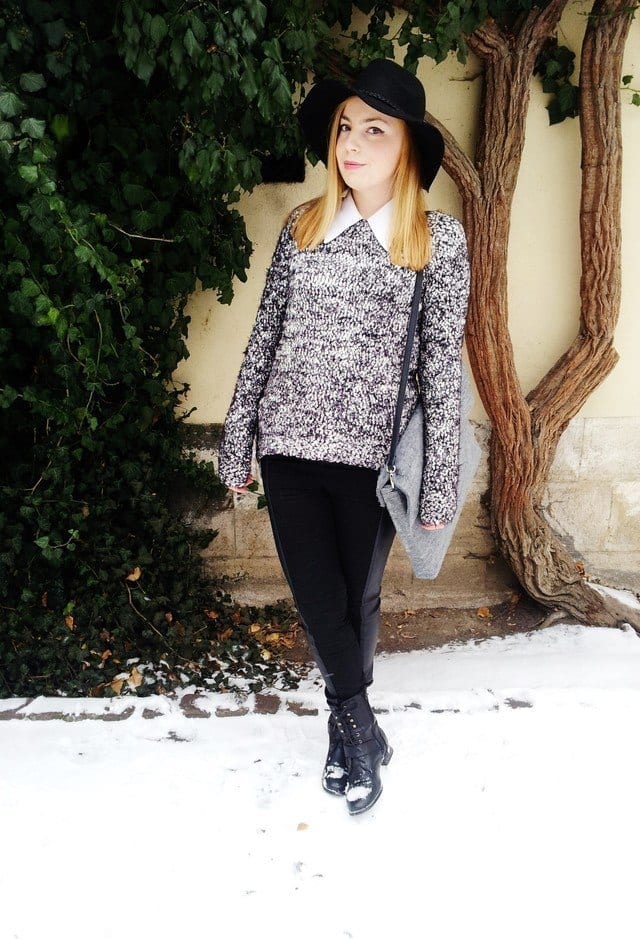 ↓ 6 – What to Wear with Combat Boots in Winters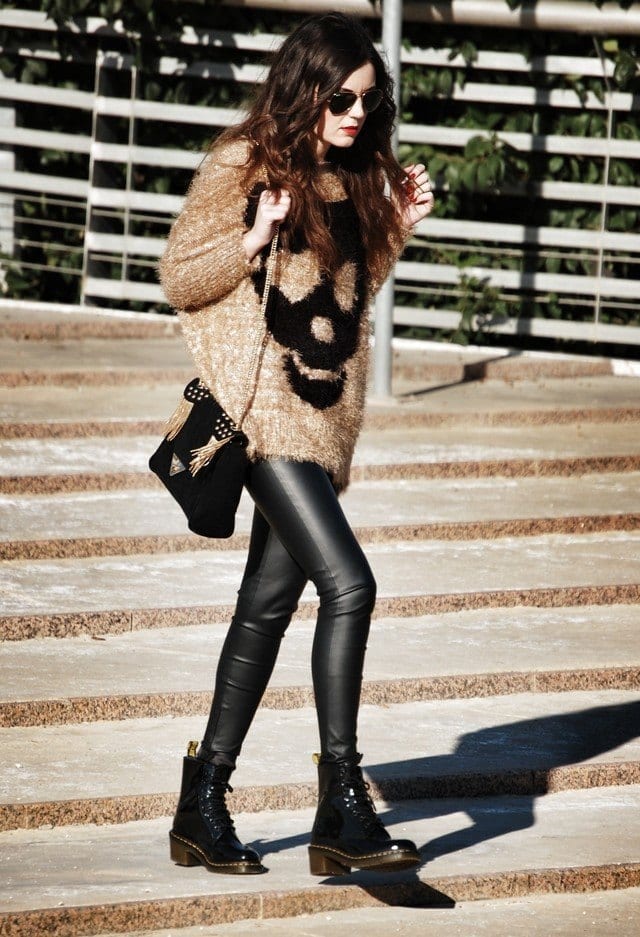 ↓ 5 – Accessories to Wear with Combat Boots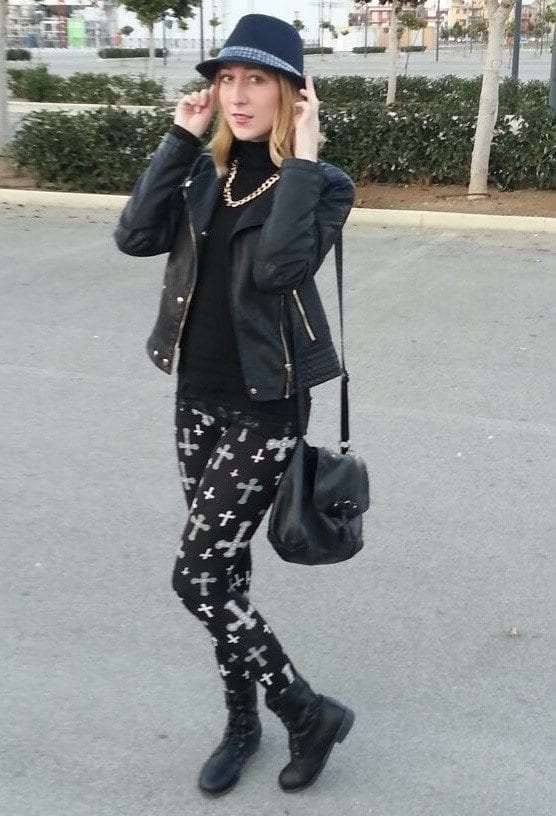 ↓ 4 – How to Wear Combat Boots with Shorts in Summers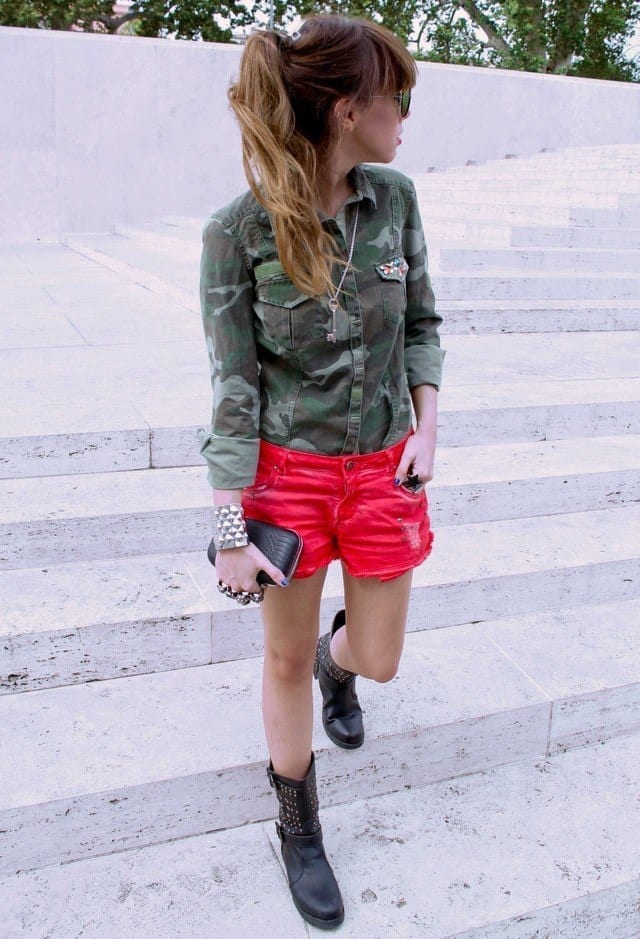 ↓ 3 – Style Combat Boots with Animal Print Leggings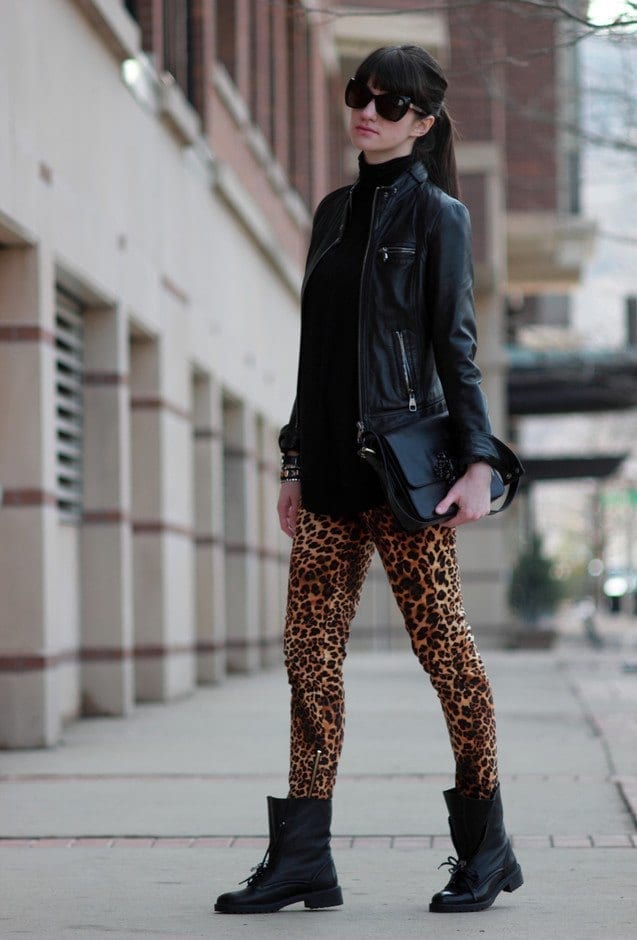 ↓ 2 – Combat Boots with Ripped Jeans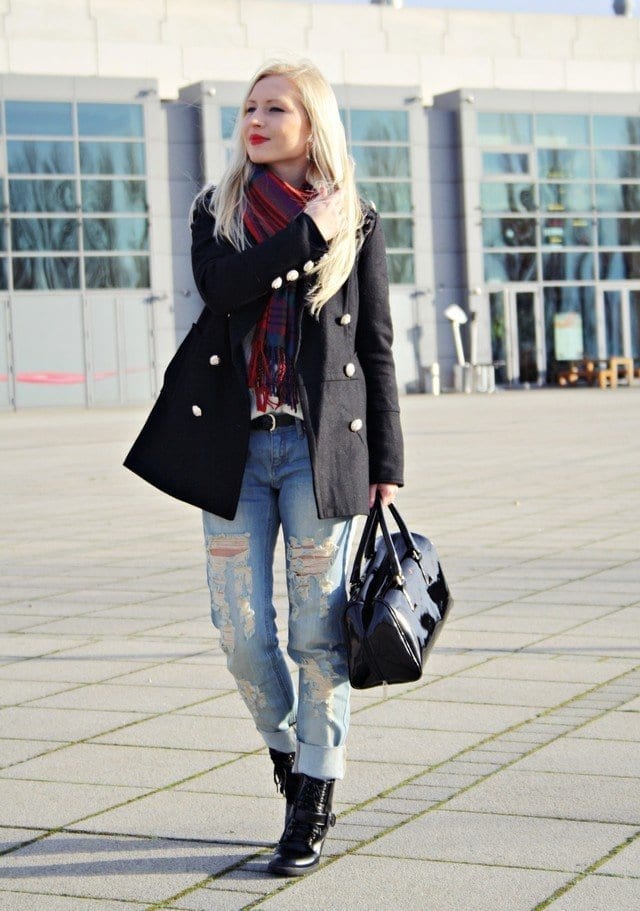 ↓ 1 – Combat Boots for Workwear